News
Congratulations to the 2019 MSDS Cohort
The University of Virginia Data Science Institute granted degrees to 49 Master of Science in Data Science students and 7 Master of Science in Data Science dual degree students—who also earned their MBA from the Darden School of Business as part of that program—in 2019, as part of the university's final exercises May 19.
The Master of Science in Data Science program at the DSI has continuously evolved since the first cohort graduated five years ago. The capstone program has gone from a single, spring semester project to a year-long engagement. It has changed in scope as well—the most recent capstones have included clients from literary studies, landscape architecture, and the city government, in addition to representation from the internet, health, finance, and government sectors.
Wood Family Awards 
Several members of the MSDS '19 cohort were recognized for their achievements as students during the program.
Sean Mullane was awarded the Wood Family Outstanding Student Award. Mullane was recognized by faculty and his cohort mates for his hard work and dedication during the program, and for his work on the capstone project, "Machine Learning for Classification of Protein Helix Capping Motifs." He also presented a session, "Ontology and Oncology: NLP for Precision Medicine," at the 2019 TomTom Applied Machine Learning conference.
"Sean is not only an excellent student," said DSI Assistant Director for Academic Affairs Elysia Anderson. "Sean has completed the MSDS while also continuing to work at UVA Health System and publishing another paper as well."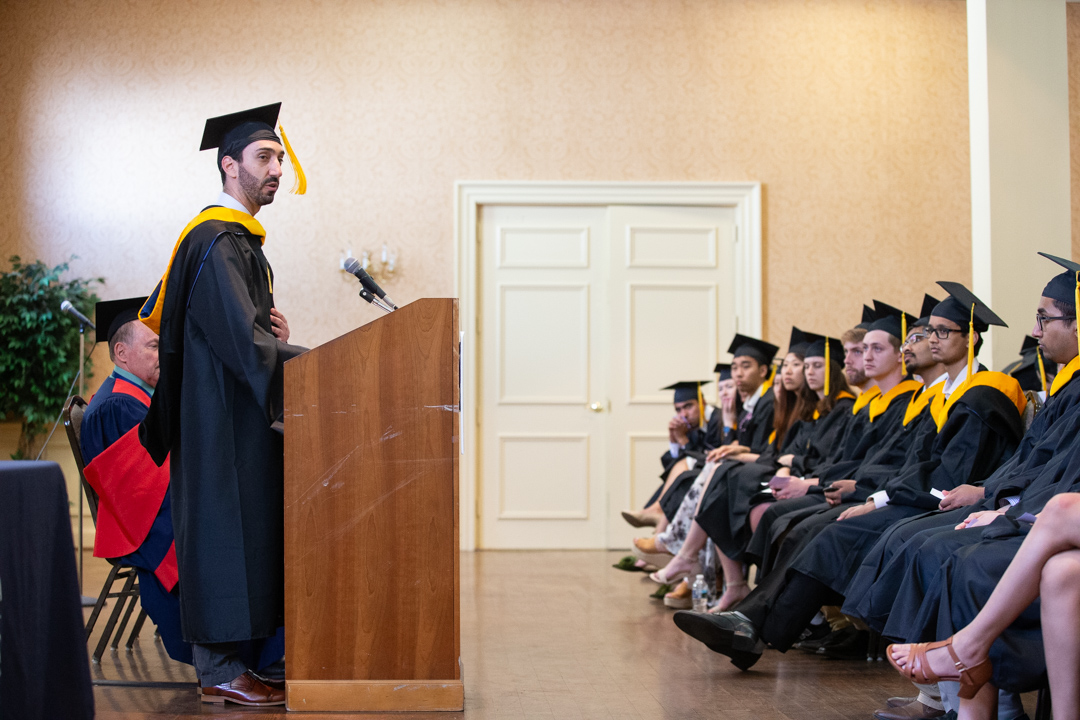 The 2019 Wood Family Service Award went to two recipients this year—MSDS students Beni Shpringer and Justin Niestroy. Shpringer helped launch and led the DSI's first MSDS student council, and through his leadership and teamwork, the council established a high level of connection and engagement within the cohort. Niestroy has been volunteering three times a week to teach Python to inmates at the Charlottesville Regional Jail since June 2018. His active service is a wonderful example of the positive impact data scientists can have on their communities.
In addition to being recognized at graduation, Mullane, Shpringer and Niestroy received a monetary award from the fund established by UVA Data Science Board member Oscar Wood. The selection criteria for the outstanding student award includes superior performance in the MSDS program and recommendations from faculty members who teach in those programs. Selection criteria for the service award includes demonstrated service to the Data Science Institute, to data science-related programs within the University, and to the data science community.
Best Paper and Poster Awards
Four groups of MSDS '19 students were honored as recipients of awards from the 2019 Systems & Information Engineering Design Symposium (SIEDS).
Aman Shrivastava, Saurav Sengupta, Karan Kant and Luke Kang—working with S. Asad Ali (Aga Khan University, Pakistan); Sean Moore (University of Virginia); Beatrice Amadi (University of Zambia, Zambia); Paul Kelly (Queen Mary University of London, United Kingdom); and Sana Syed and Donald Brown (University of Virginia)—were awarded Best Poster for their research and the poster presentation of their capstone project, "Deep Learning for Detecting Diseases in Gastrointestinal Biopsy Images." Shrivastava also presented their research at the 2019 Tom Tom Applied Machine Learning Conference in Charlottesville.
Sean Mullane, Ruoyan Chen and Sri Vaishnavi Vemulapalli, working with DSI director and biomedical engineering professor Phil Bourne, professor Cameron Mura (Chemistry), research scientist Ke Wang (Computer Science), and PhD student Eli Draizen (Biomedical Engineering), received a Best Paper award in the Data Science for Health category for their research and publication, "Machine Learning for Classification of Protein Helix Capping Motifs."
Arnab Sarkar, Charu Rawat, and Sameer Singh, working with DSI professor Rafael Alvarado and Wikimedian-in-Residence Lane Rasberry, received Best Paper award in the Data Science for Society category for their research and publication, "Automatic Detection of Online Abuse and Analysis of Problematic Users in Wikipedia." The researchers also presented their findings at the 2019 Tom Tom Applied Machine Learning Conference.
Navin Kasa, Andrew Dahbura, and Charishma Ravoori, working with School of Engineering professor Stephen Adams, received a Best Paper award in the Data Science for Business category their research and publication, "Improving Credit Card Fraud Detection by Profiling and Clustering Accounts."
The 2019 DSI Master of Science in Data Science cohort is moving on to a variety of places and positions. From pursuing data science careers in the Silicon Valley to working for the federal government in Washington D.C., there is no doubt that each talented and highly skilled MSDS '19 graduate will excel and make an impact in the field.