"Old School" Meets New School
In a surprising but welcome pairing, UVA's new School of Data Science and the decades-old Ragged Mountain Running Shop have become neighbors.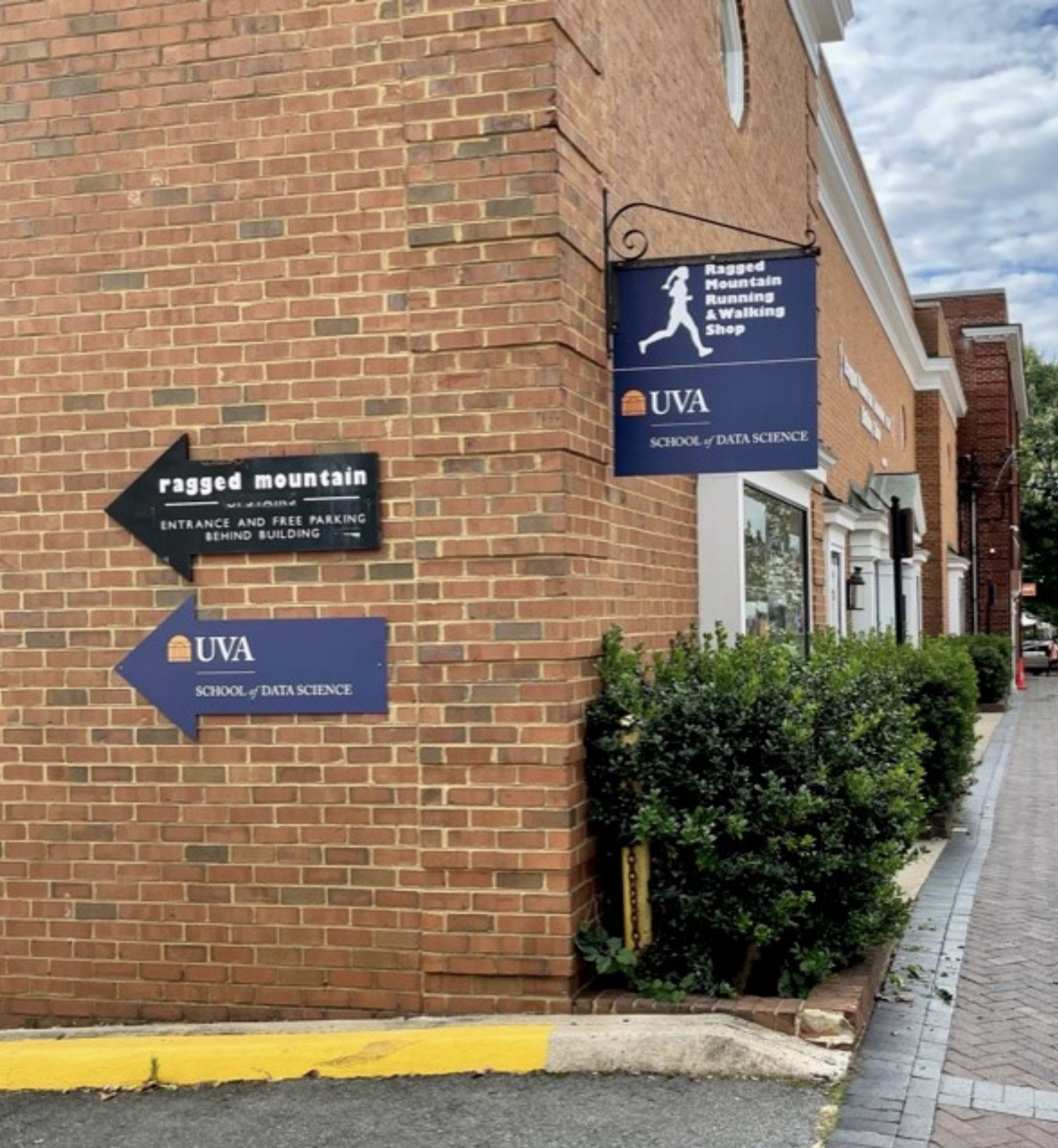 For nearly 40 years, Ragged Mountain Running Shop has been the go-to spot for Charlottesville residents looking to buy running and walking shoes. But in recent months, a new group has joined the visitors to the store on Elliewood Avenue: data science students, who head upstairs to code, work on problem sets and log into class. 
It's an arrangement that the original shop owner, Mark Lorenzoni, fondly refers to as "'old school' meets new school." In a surprising overlap between two prominent Charlottesville institutions, the University of Virginia's new School of Data Science, which was founded in 2019, has begun renting the second floor above the longstanding establishment for runners and athletes.
"We are honored to share space with this beloved Charlottesville institution," said Phil Bourne, Dean of the School of Data Science. "Ragged Mountain Running has served the University of Virginia community for decades, and we are thrilled to work alongside this very special local business."
Mark and Cynthia Lorenzoni first opened Ragged Mountain Running Shop in 1982, a few doors down from their current location. 
"We sold three pairs of shoes a day during that first year," Mark Lorenzoni reflected. "We had two little school desk chairs where people tried on shoes. We worked really hard. I always tell my employees that it is important to look out ahead, but don't ever forget where you came from."
The next year, business tripled, Lorenzoni said. As the store's popularity continued to increase, Ragged Mountain outgrew their space, leading them to move to another location before eventually settling in their current shop at 3 Elliewood Avenue in 2006. 
Fast forward to 2019, when Bourne and Chief of Staff Arlyn Burgess were looking to expand the School of Data Science's footprint.
"We used upstairs for storage for many years," Lorenzoni said, "but when we heard that UVA Data Science was looking for space, we jumped at the opportunity. We love being on the Corner and around students. This was a way to be around the bustling student community even more and work with UVA."
Today, Mark and Cynthia's children, Audrey Sackson and Alec Lorenzoni, own and run the shop. 
"We have always been neighbors with UVA, but now it is fun that we are literally neighbors," Sackson said. 
The School of Data Science first renovated and moved into the Elliewood location in 2020. Today, it accommodates students looking to study together or work on projects, as well as faculty and staff who need space for meetings.
Mark Lorenzoni said he specifically loves sharing the space with a school focused on data science, given the important role that numbers and data play in his business.
"Numbers are critically important for our customers to understand the mileage on their shoes," he explained. "If you're walking 100 miles a month and your shoes give you 400 miles of protection, you will need new shoes after four months. In the pandemic, people were jumping their exercise from 10 miles a week of walking to 25 miles a week. People were getting frustrated that their shoes were wearing out faster, but it is all about those numbers."
While other stores on Elliewood Avenue have come and gone, Ragged Mountain has been a constant. The shop has grown and changed throughout the years, though the mission of bringing quality customer service to the runners and walkers of Charlottesville remains the same.
"Audrey and Alec have the shop all computerized now, but as a mom and pop business, we really have been 'old school' for a long time," Lorenzoni said. "And now we are renting the space to the very epicenter of technology at UVA, the School of Data Science."
For Lorenzoni, choosing to share space with UVA's newest school not only reflects the shop's evolution, but also his decades-old love for the University of Virginia community.
"That decision we made 40 years ago to have our business on the Corner has been our best decision," he said. "We've stubbornly stayed here, and we just love the vibrancy of this area. We are so excited to share our space now with the School of Data Science."