The School of Data Science pursues high-impact research to further discovery, share knowledge, and change the world for good. 
Our research program is focused on the five pillars of data science—data acquisition, engineering, analysis, dissemination, and ethics—to be embodied in centers led by renowned faculty. Key areas of research are based on faculty expertise and societal need and include: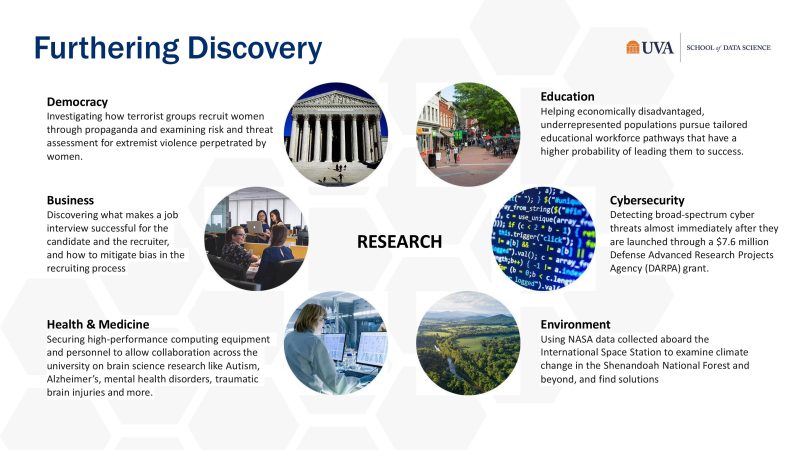 This non-traditional structure allows for coordination across key areas of data science without the constraint of departmental silos and allows the flexibility that is a necessity in the fast-paced and constantly evolving field of data science.
In addition to Centers, we will apply those pillars in diverse domains through collaboratories—research groups crossing disciplinary boundaries to use the power of data science to advance every field.
In recognition of its critical importance to the field and to society, we have already established the Center for Data Ethics and Justice. Further centers will be established in accordance with a strategic plan identifying core areas of data science.
Collaboratories are currently being created in domain areas in partnership with the Schools of Medicine, Education, and Architecture, with plans to partner with all 11 other Schools on Grounds, at UVA-Wise, and in Northern Virginia. These collaborative physical and intellectual hubs will enable researchers to share knowledge and discovery. They offer a unique opportunity to create an interdisciplinary ecosystem of people, ideas, and infrastructure—a 21st-century version of the academical village.
Contact Office of Research Team

Don Brown
Senior Associate Dean for Research and Quantitative Foundation Distinguished Professor in Data Science
deb@virginia.edu
Alex Kish
Director of Research Administration
cws3v@virginia.edu
Jessica Otey
Research Computing Engineer
jlo6r@virginia.edu 
Claudia Scholz
Director for Research Development
cws3v@virginia.edu
Tesha Westbrook
Staff, Grants and Contracts Administrator
tcc4s@virginia.edu 
Learn more about our projects, faculty, and researchers.