Demand for Data Science Drives Graduate Career Success
Strong Career Outcomes Reported
The Master's in Data Science (MSDS) Class of 2022 saw very strong career outcomes with a 98% full-time employment rate within six months of graduation. More than half (56%) of the MSDS Online graduates report transitioning to new, more lucrative careers. Graduates secured positions in tech companies, sports franchises, financial institutions, governmental agencies and contractors, the healthcare industry, and universities.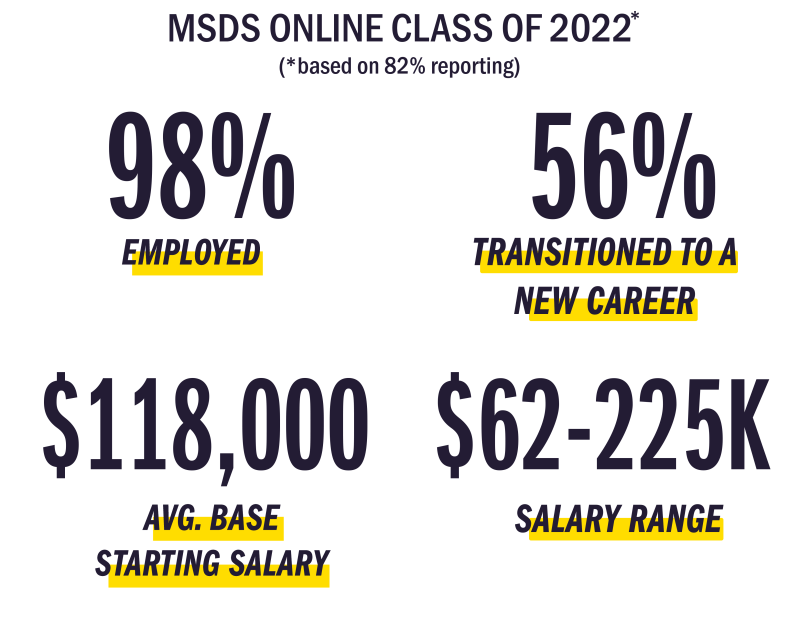 UVA School of Data Science graduates are highly skilled at the ins and outs of data – from data engineering and integration to data modeling and visualization to data analysis and reporting. MSDS graduates have consistently and successfully navigated the job market, as evidenced by the many companies in a wide range of industries who continue to hire individuals from our program.
MSDS '22 graduate employers include Booz Allen Hamilton, Capital One, the Chicago Cubs, Deloitte, the Department of Defense, FanDuel, the Federal Reserve Board, Lockheed Martin, Oracle, Red Hat, S&P Global Market Intelligence, and the Sacramento Kings to name a few.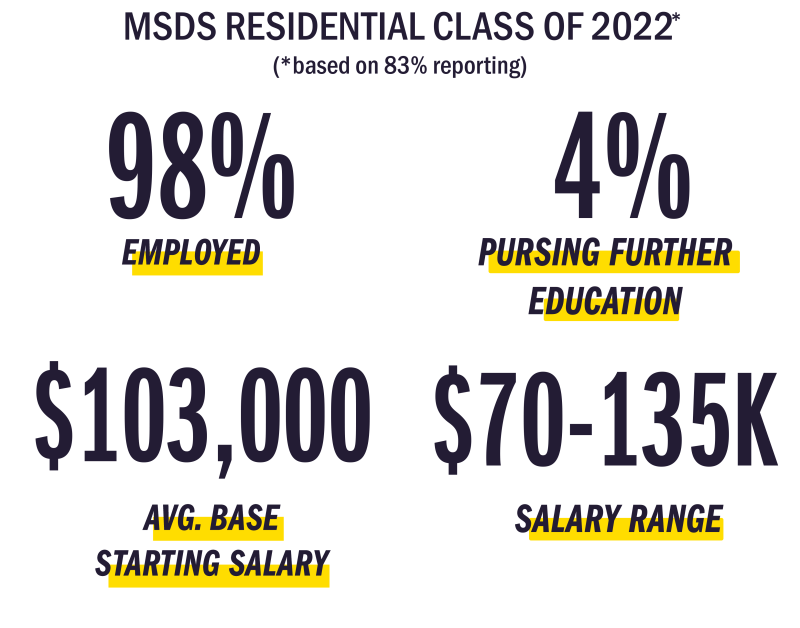 Many of these companies are known for their cutting-edge technology and innovative approaches to data analysis, where others are looking to grow these capabilities, making them attractive destinations for those who have completed an MSDS. With the increasing demand for data analysis and the complexity of problems being solved in various industries, the job market will continue to seek MSDS talent in the coming years.
"I accepted a job offer Monday. Thank you for all your guidance and support. You made me feel confident in myself and helped me change my life." –MSDS Online Graduate, 2022
Career Services Supports Grad Success
Impressive employment outcomes are due in large part to the dedicated, tireless SDS Career Services Team, which offers a wide variety of year-round resources, including one-on-one advising, workshops, career coaching, and events to build career development skills and connect with industry advisors, employers, and alumni.
In addition to these popular Career Services programs – and an exclusive MSDS Careers Job Board, featuring job and internship opportunities and career development/recruiting events – students took advantage of large-scale career events throughout the year, including Mock Interview Day, Tech Night Takeover, the Engineering Career Fair and Conference, Commerce Career Day, Intelligence & Security Career Day, Fall Resume Marathon, and many more.
The MSDS Summer Career Series offers students the chance to hear from a wide variety of speakers including alumni, hiring managers, and career development professionals from across Grounds. Topics range from career exploration and networking, to resume creation and building a job search strategy during the summer, to getting a jump on the fall recruiting season.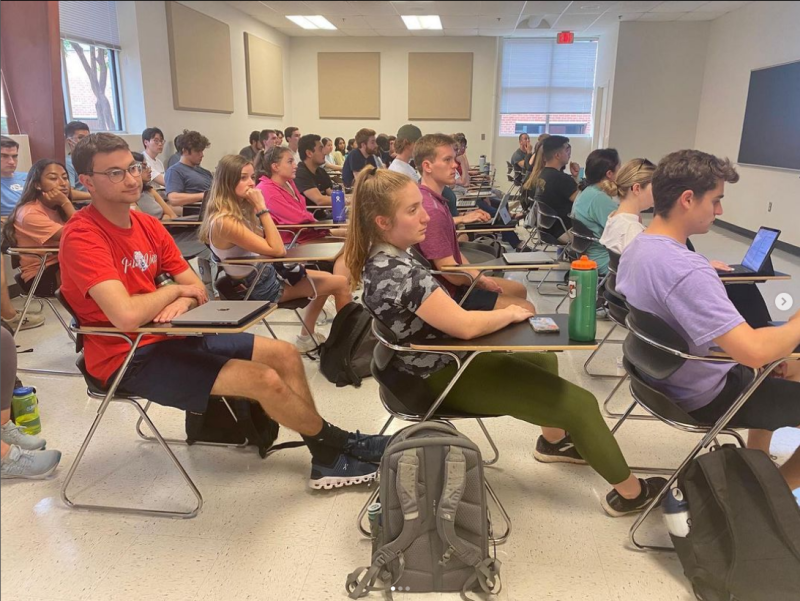 With sports analytics an increasingly in-demand career, SDS Career Services sent nine MSDS students to the MIT Sloan Sports Analytics Conference to network with leading industry figures with at least five '22 graduates employed in the field.
Reggie Leonard, Associate Director for Career Connections and Community Engagement, stays very busy and loves the way his role constantly brings him into contact with others. "I love connecting people. In the MSDS program, we're connecting people to each other, to organizations, and to career pathways that are shaping and forming the world we live in," he says.
Assistant Director of Career and Professional Development Hannah Pede emphasizes the importance of career development programs and their long-term value, "We strive to not only support students as they look for their first role after graduation but to teach them skills and competencies they will be able to use throughout their career."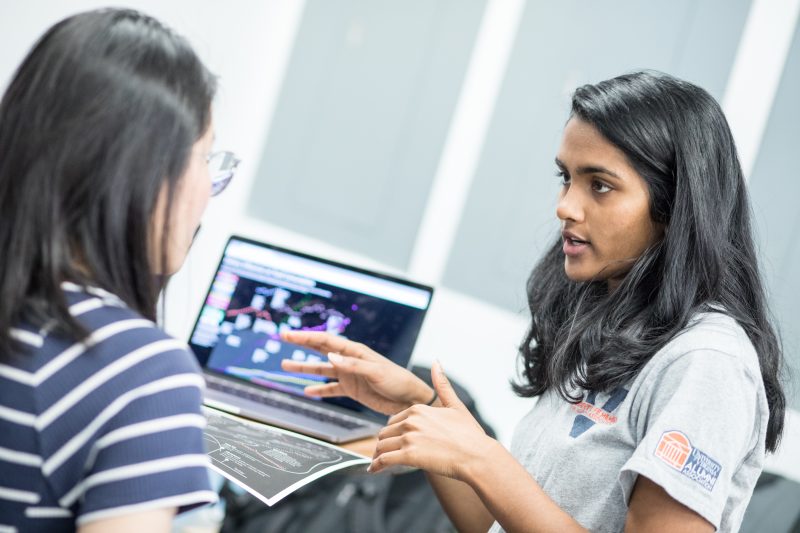 From machine learning engineering in San Francisco to data analysis in Washington, D.C., MSDS graduates build on the foundational academic and experiential education to further their careers in the fields of sports, business, culture, medicine, politics, and more. The 2022 graduates are well-positioned to make a positive impact in their respective fields and continue to drive the growth of data science. Learn more about UVA School of Data Science Employment Statistics here.
Hiring employers who would like to begin a conversation around recruiting talent may reach out directly to Reggie Leonard, Associate Director for Career Connections and Community Engagement, at reggieleonard@virginia.edu.