Recruitment Night Brings Alumni Back on Grounds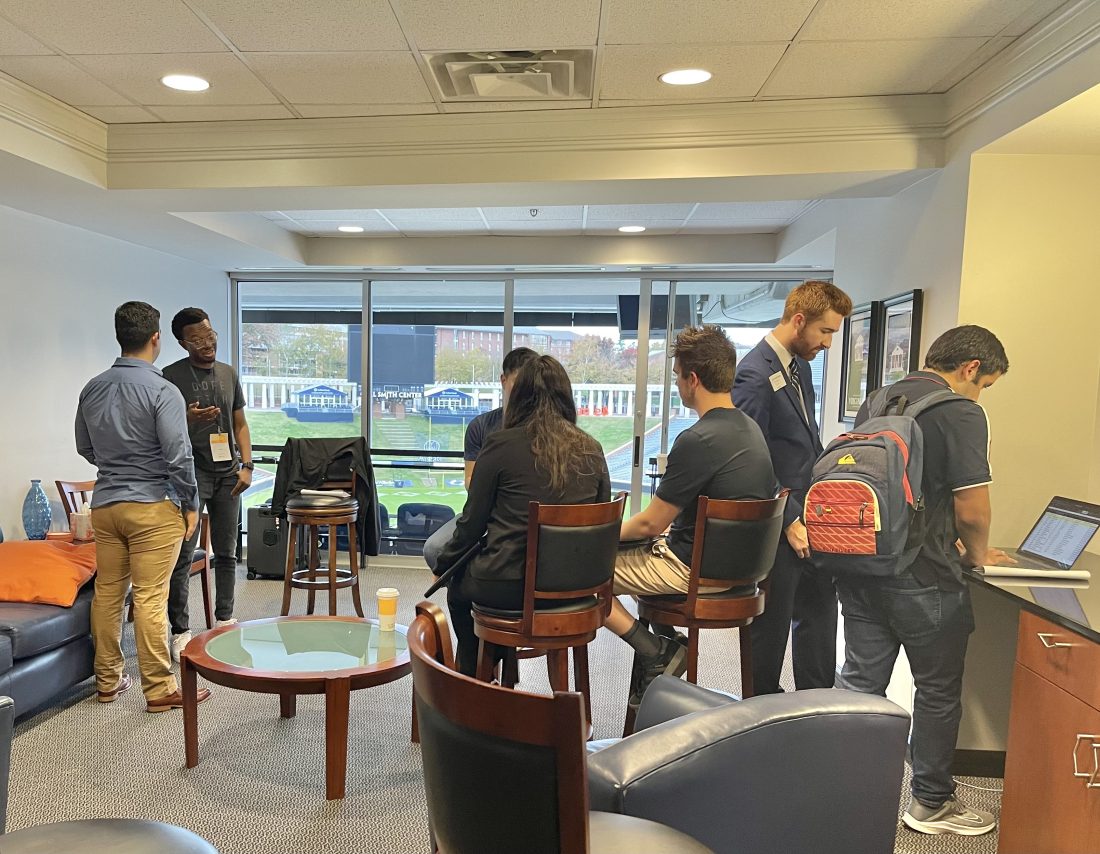 Amid various niche recruiting events, such as Economic Litigation Consulting Night, Tech Night Takeover, Fall Finance Night, Intelligence and Security Career Day, fell the Fall Data Analytics Night, which focused on recruiting opportunities in the combined data science and analytics space. 
This is a premier recruiting opportunity for our Data Science students seeking to be recruited during the Fall semester. Similarly, there is a Spring session that takes place virtually.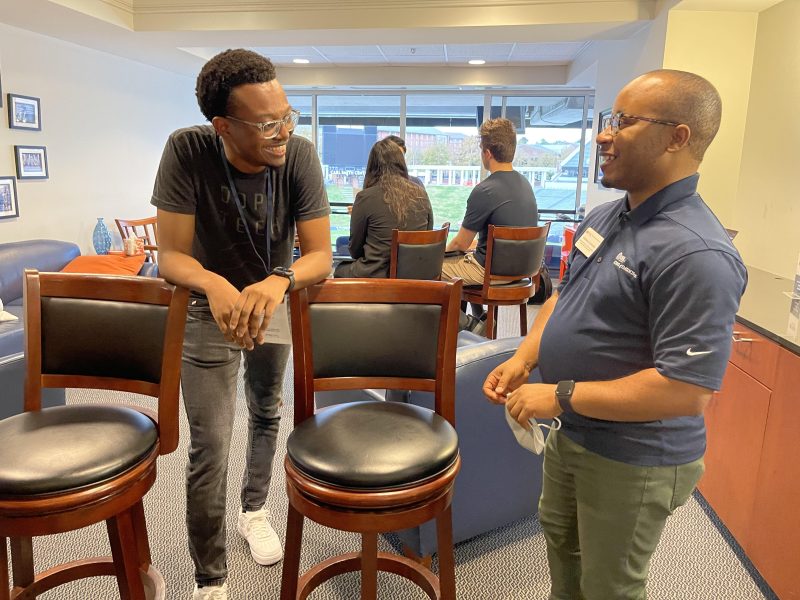 School of Data Science alumni returned from organizations like the Center for Naval Analyses and Proctor & Gamble, and many recruiters from organizations' various sectors including KPMG, Booz Allen Hamilton, and Simatree attended the event in search of data science and analytics talent. Fannie Mae was a participating organization and hosted an MSDS (Master of Science in Data Science) exclusive coffee chat in one of our spaces earlier in the day. 
MSDS Alumnus Gabriel Rushin returned to support and encourage current MSDS students. He currently works for P&G as a Senior Technical Product Manager, helping to deliver shelf data to P&G analysts. We caught up with him to learn more about his journey to data science and his experience being back on Grounds.  
Q: Talk about your journey to data science and the M.S. in Data Science here at UVA: 
A: I came to UVA as a pre-med major. My mom is a psychiatrist, and I wanted to follow her by going into medicine. I got to the end of the requirements for pre-med and determined I do not want to do this. I do not like being in the hospital. I actually like math. So, I ended up staying with math. Then, I took a coding class at the end of my third or fourth year and realized I like coding too. I wanted to combine the two, both math and coding and that's where data science comes in.  
Q: What is it like to be on the other side of things, no longer a student but instead an employee, helping people who are in the place you were in a few years ago? 
A: It was like a flashback to when I was in the program. It was nice being able to talk to them and saying, 'Oh, I've been in your position, here's probably what you need to do to get to where you want to get to.' I also shared with students things I wish I had done differently, like applying early, resume building, making sure I focus on my capstone and those little bits of advice.
Q: The School has grown a lot since you attended, what was it like to be back on Grounds? 
A: The most inspiring thing was seeing the new Data Science School being built. Because when I started, we were at the bottom of Olsson. Hall So now seeing it being built up to a school you realize that it's come a long way in a very short amount of time. 
Q: What skills have you used that data science students should learn?  
A: On the product management side, you are going to need Scrum and Agile. Those skills are necessary when you are doing this type of role and using presentation skills. Specifically in data science, when they do presentations, that's applicable across all types of jobs. And then cloud computing skills tend to help. So, things like GCP (Google Cloud Platform) and AWS. You do not need to know them as you can create them, but you just need to be able to understand how it works on a technical project manager's side. 
For data science or machine learning engineering, you are going to have to know some coding. So that being more libraries like Spark, SQL, and languages. I will also say some technical writing. Many people do not talk about technical writing, but it is helpful when trying to communicate things to team members. 
Q: What is a quote you live by that you would like to share with students?  
A: One thing I always tell myself is learning is a process. You're not supposed to get it the first time. Learning is a process. You have to go repeatedly. 
For those interested in recruiting our MSDS students, feel free to connect with Reggie Leonard from our career services team directly.