From Biochemistry to Data Science: Alum Abhijith Mandya's Path
Although only at UVA for 11 months to get his MSDS, Abhijith Mandya looks back on his time in Charlottesville gratefully.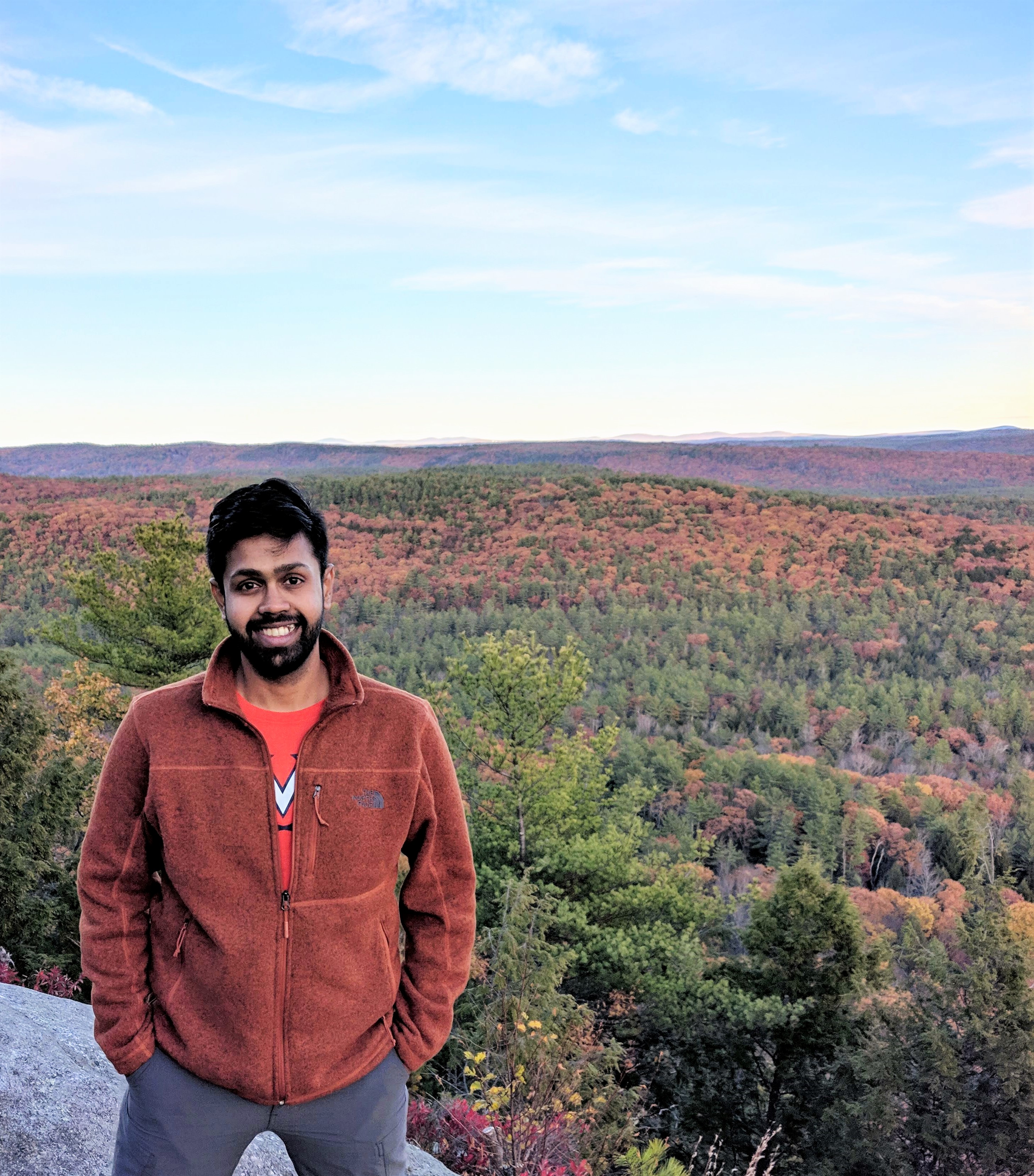 Mandya was born and raised in Mumbai, India. He acknowledges that he does not have a straight and direct path to getting his Master's in Data Science. 
"It's been a meandering journey to get to data science," he chuckled.
Mandya attended Mumbai University, where he majored in biochemistry. 
"I was heavily into research and biology was my first and foremost interest then," he explained. "I did my Masters in the same discipline [biochemistry], but I realized that in this process I liked the statistical aspects of biological research more than biology itself. That's when I realized that maybe I'm not suited for this field and something more math heavy." 
After graduating with his Masters degree in Biochemistry, Mandya was hired as a Data Scientist for Peel-Works, "a tech and data analytics company specializing in e-commerce for corner stores."
Abhijith explained that while he was working there, the Analytics Director quit, and he began to report directly to the CEO. While he had no prior experience in programming or working such complicated models and analytics, he learned on the job. 
However, he described having an imposter syndrome feeling, not having an educational background in data science. Abhijith enjoyed the work he was doing, but he knew that he wanted to pursue his Master's in Data Science. 
"I really liked what I was doing, but I didn't feel confident," he said. "My next step was applying to programs which gave me the proper training and background."
Abhijith explained that UVA was the perfect fit for many reasons, one of them being that it is an 11-month program. He was eager to get back to the corporate, working world, and he was excited to be able to get his Master's in less than a year. 
"The program is a perfect mix of professional training as well as actual academic learning," Mandya said. 
He began the MSDS program in the summer of 2017 and graduated in May of 2018. Through his capstone project, Mandya was able to publish an academic paper, which he explained as an incredible learning experience and a great talking point during the interview process.
As the spring semester rolled around, the job search process intensified. 
"It was way more difficult, and sometimes it felt like I was doing two jobs at the same time," Mandya noted. "I was already in a hectic program, but I was giving the other part of me to interview preps, applying to jobs,  simultaneously working on test data and models for the interviewers to analyze and get back to me."
Despite the stress of balancing school work and applying to jobs, Mandya found success. He credits much of this to the Career Services Team at the School of Data Science, especially Reggie Leonard, the Associate Director for Career Connections and Community Engagement.
"I genuinely feel that Reggie and the whole team at SDS [School of Data Science] was fantastic with this because they had amazing knowledge of not just the current hiring policies of the analytics industry in the U.S. but also the ability to understand the special needs that we as international students have," Mandya said. "Reggie was amazing with this. He was actually the one who got Red Hat to SDS and sent my resume to my hiring manager." 
Mandya now lives in Raleigh, North Carolina, where he works for Red Hat, an open source  software company that was bought by IBM for a record USD 34B in June of 2019, which provides IT solutions and software products to companies. He works as a Business Data Scientist for Red Hat.
"I'm basically tasked with creating forecasting models that will help better achieve revenue targets for Red Hat," Mandya explained.
He also described the culture of the company and his deep appreciation for his coworkers.
"Red Hat is an amazing company. It's an absolute pleasure to work with my team and be in it," Mandya said. "The culture is amazing. My teammates literally feel like family to me." 
While Raleigh is a major change of pace from Mumbai, which has a population of 25 million people, Mandya enjoys the city and its slower pace. He especially looks forward to seeing Reggie and other people from the School of Data Science when they come to Raleigh. 
"He [Reggie] is so innovative and creative in terms of how he manages to get industry people and create outreach for us," Mandya said. "I [still] meet Reggie when he comes to Raleigh to meet with us SDS alumni in Raleigh."
Mandya looks forward to developing more complex financial models and entering into product development as he continues working at Red Hat and furthering his programming and analytic skills.