School of Data Science Strengthens Relationship with Spelman College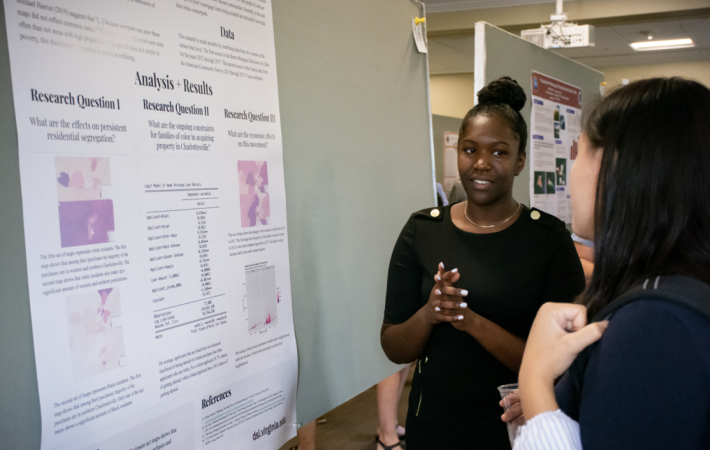 The relationship between the University of Virginia School of Data Science (SDS) and Spelman College began in 2018 when Claudia Scholz joined the SDS faculty as Director of Research Development, having formerly held the position of Associate Provost for Research at Spelman.
"HBCUs have a proven track record of cultivating Black excellence," Scholz remarked. "Schools like Howard, Spelman, and others were doing data science before we even used the term. For example, W.E.B. DuBois, a pioneer and innovator in data visualization, taught at Clark Atlanta University for decades, in the years before digital tools like Tableau even existed."
Spelman College, a historically black, women's liberal arts college in Atlanta was ranked #1 HBCU by U.S. News & World Report in 2021. It was a goal of SDS Director of Admissions and Financial Aid Patti Edson to build strong relationships with HBCUs in hopes of recruiting students to the School of Data Science master's programs. She met with Susan Beckett-Mitchell, Corporate and Foundation Relations Officer, at Spelman College. 
"We are very grateful that Dr. Scholz kept Spelman in mind when she joined UVA's School of Data Science," stated Becket-Mitchell. "Through presentations and small group discussions, our students have had the opportunity to learn more about the School of Data Science and possible career paths within the field." 
One initiative that benefits both SDS and Spelmen is the involvement in Spelman Research Days. The program is a platform for Spelman students and faculty to showcase their scholarly work and for faculty speakers to present their research. SDS has sponsored three Research Days, through which Edson has connected with Spelman students interested in studying data science. 
After Edson attended Spelman Research Days and similar events at Howard University, also an HBCU, she found common ground with admissions representatives from Wake Forest School of Business, Northeastern University Khoury College of Computer Sciences, and Emory Goizueta Business School. 
This inspired Edson to start a consortium of schools with a shared goal of engaging with students at HBCUs. "There is power in numbers," Edson commented. 
"When you make yourself available as a group, your opportunity to meet more students increases. We found that by working together, we all do better."
Despite the challenges of the past year, Spelman was committed to hosting Spelman Research Day and events leading up to it. The college hosted virtual live showcases throughout the winter and spring, including an event featuring SDS Data Activist Reneé Cummings. Cummings spoke to Spelman students about her background in criminology and current work as a data activist in artificial intelligence. 
"I spoke about why diversity, equity and inclusion are critical to designing, developing and deploying principled, responsible, and trusted technology, and why it is imperative to have interdisciplinary and multidisciplinary collaborations in data science to ensure equitable and inclusive new and emerging technologies," Cummings detailed. "We need a multicultural approach to data science to amplify diverse voices, bring visibility to the under-represented populations, and confront some of the deeply rooted reductionist thinking and attitudes such as bias, discrimination and systemic racism that continue to be normalized and legitimized in data and that continue to deliver devastating, if not deadly outcomes for BIPOC and other marginalized and vulnerable groups."
Edson remembered Cummings' speech as empowering and moving, and Beckett-Mitchell agreed. "We were honored to have Renée share information about her career as a data activist. This is such important work in a field that is growing exponentially. It was inspiring for students to hear how she is impacting the field, and I believe it gave students the tools to begin envisioning a career in this arena."
Edson looks forward to evolving the relationship with Spelman and growing the consortium's reach and impact. This includes a Summer Research Program that began with one student from Spelman, Taylor Brown. Brown came to Charlottesville during the summer of 2019 to complete a data science project with Michele Claibourn. The two used Charlottesvile mortgage data to research the relationship between income, race, sex, and the rate of home loan denials in the Charlottesville region. Taylor, who recently graduated from Spelman with a degree in economics, will be joining Red Ventures as a digital marketing analyst. 
This summer, SDS welcomes two students from Spelman College, Dahnielle Milton and Suliah Apatira, along with students from Howard University, Washington University, St. Louis, and the University of Virginia, as part of the School of Data Science Summer Research Program.
"Our relationship with Spelman is still just beginning. We are thrilled about the summer research program," Edson noted. "My hope is that at some point, between our two faculties, there is a symbiotic relationship. The hope is that every year we do a guest lecture on a regular basis at Spelman, and that Spelman faculty visit us to talk about their work."
For Beckett-Mitchell, she looks forward to more students from Spelman gaining interest in the rapidly growing field of data science. "UVA is helping spread the word about the exciting field of data science, which helps our students broaden their vision of the future." 
For more information, between SDS and Spelman College, please contact Claudia Scholz.