Deloitte AI Institute for Government and Oracle for Research Sponsor UVA HBCU Bridge to Data Science Summer Research Program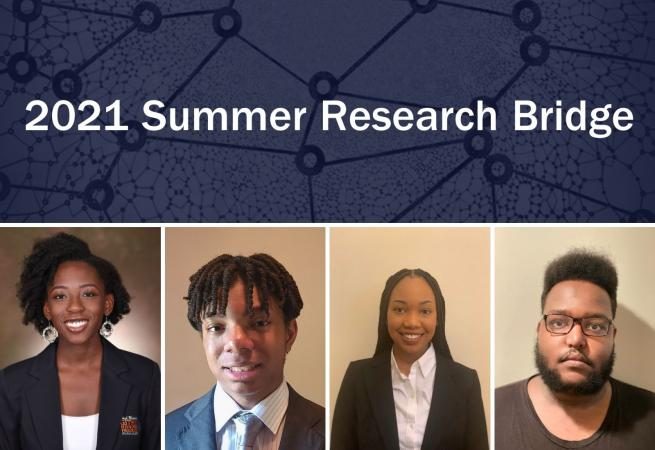 The School of Data Science is pleased to announce that Deloitte AI Institute for Government and Oracle for Research will sponsor the 2021 UVA-HBCU Summer Research Bridge to Data Science Program. This summer's virtual program will bring together a team of underrepresented minority students and researchers to address fundamental questions in health equity in Charlottesville and Albemarle communities.

Deloitte and Oracle will provide participating students with mentorship opportunities and educational materials on data science and AI, as well as career development resources ranging from a monthly speaker series to capstone engagement and virtual job shadowing.
 "With this effort, we hope to help bridge the gap in health disparities experienced by so many communities today," said Tasha Austin, Advisory Principal, Deloitte & Touche LLP, and Director of Deloitte's AI Institute for Government. "We are excited to support the students' career development and strengthen their understanding and skills in the areas of STEM and AI so they can help expand access to health care when they graduate."
"The UVA/HBCU Summer Research Bridge to Data Science 2021 Program creates opportunities for students to work with mentors on important primary research that can yield new insight into health inequity," said Alison Derbenwick Miller, Vice President, Oracle for Research. "We're excited to have this opportunity to bring the power of Oracle Cloud to some of America's brightest students as they explore careers in research."
"The School of Data Science is grateful to have dedicated partners such as Deloitte AI Institute for Government and Oracle for Research make this project possible," said Philip E. Bourne, Stephenson Dean of the School of Data Science. "Participating students will not only benefit from this unique exposure to the intersection of data science and healthcare but also the invaluable mentorship and career development support of our sponsors."
Selected students in the program currently attend UVA, Howard University, Spelman College and Washington University, St. Louis. In addition to the research scholars in the program, applicants who applied to the program from HBCUs will be invited to attend the speaker series and ongoing career development resources through the newly developed UVA Data Science Scholars of Color Network.
The COVID-19 pandemic has brought into sharp focus the health disparities for many racial and ethnic minority communities with long-standing systemic health and social inequities. Communities throughout the U.S. have observed differences in infection rates, outcomes, and mortality (1). In Virginia, African Americans make up 19.1% of the population, but as of November 2020 they accounted for 26% of the deaths due to COVID-19 (2) and this disparity is also evident for the Latinx, indigenous, and other disadvantaged communities (3). The impacts of differential access to opportunities and resources needed to for healthy living are not limited to the current pandemic. Recent studies have documented growing health disparities across diseases and life expectancy (4-11). A baby born in a largely white, wealthy suburb of St Louis can expect to live 35 more years than one born in a mostly black, lower income suburb only a few miles away (11,12).
Faculty advisor to the program Don Brown, Senior Associate Dean for Research at the School of Data Science, noted, "The program will provide opportunities for students of color from a broad range of programs and disciplines to learn about and help address one of the major health care issues facing the United States, while enhancing our current research efforts by joining work in health equity with data science to better understand both the problems' characteristics and the attainable solutions."
Students in the HBCU Bridge to Data Science Summer Research Program will also be exposed to ethics and AI considerations, including ethical uses of data in communities with limited access to health care; personal health data through methods that incorporate the principles of the 2018 Common Rule; algorithms that correct for bias due to underrepresented populations; and policies and procedures that improve access to health care through interactions with members of the communities.
Companies and organizations seeking more information on how to support UVA Data Science DEI initiatives can contact Chief of Staff Arlyn Burgess.
About Deloitte
Deloitte provides industry-leading audit, consulting, tax and advisory services to many of the world's most admired brands, including nearly 90% of the Fortune 500® and more than 7,000 private companies. Our people come together for the greater good and work across the industry sectors that drive and shape today's marketplace—delivering measurable and lasting results that help reinforce public trust in our capital markets, inspire clients to see challenges as opportunities to transform and thrive, and help lead the way toward a stronger economy and a healthier society. Deloitte is proud to be part of the largest global professional services network serving our clients in the markets that are most important to them. Building on more than 175 years of service, our network of member firms spans more than 150 countries and territories. Learn how Deloitte's more than 330,000 people worldwide connect for impact at https://www2.deloitte.com/us/en.html.
About Oracle
Oracle offers integrated suites of applications plus secure, autonomous infrastructure in the Oracle Cloud. For more information about Oracle (NYSE: ORCL), please visit us at https://www.oracle.com/index.html.
References
Farley, J.H., J. Hines, N.K. Lee, S.E. Brooks, N. Nair, C.L. Brown, K.M. Doll, E.J. Sullivan, and E. Chapman-Davis (2020).  "Promoting health equity in the era of COVID-19," Gynecologic Oncology
Dragas Center for Economic Analysis and Policy (2020). "2020 State of the Commonwealth Report," Old Dominion University, December 2020.
APM Research Lab Staff (2021), "The Color of Coronavirus: COVID-19 Deaths by Race and Ethnicity in the U.S." Jan. 7, 2021
National Academies of Sciences, Engineering, and Medicine; Health and Medicine Division; Board on Population Health and Public Health Practice; Committee on Community-Based Solutions to Promote Health Equity in the United States; "Communities in Action: Pathways to Health Equity." Baciu A, Negussie Y, Geller A, et al., editors, Washington (DC): National Academies Press (US); 2017 Jan 11.
Ashing, K. T., Lai, L., Brown, S., McDowell, K., Carter, D., Smith, J., et al. (2015). Developing a treatment summary and survivorship care plan responsive to African-American breast cancer survivors. Psycho-oncology. doi:10.1002/pon.3939
Fleisher, L., Davis, S. N., Gross, L., Bagden, L., Zakrzewski, D., Gonzalez, E., et al. (2016). Lessons learned from implementing a prostate cancer risk assessment program for underserved high-risk men in the community: The Prostate REACH Project. Journal of Cancer Education, 31, 191–197. doi:10.1007/s13187-015-0854-8
Best, A. L., Alcaraz, K. I., McQueen, A., Cooper, D. L., Warren, R.C., & Stein, K. (2015). Examining the mediating role of cancer- related problems on spirituality and self-rated health among African American cancer survivors: A report from the American Cancer Society's Studies of Cancer Survivors-II. Psycho-oncology, 24, 1051–1059. doi:10.1002/pon.3720
Gwede, C. K., Koskan, A. M., Quinn, G. P., Davis, S. N., Ealey, J., Abdulla, R., et al. (2015). Patients' perceptions of colorectal cancer screening tests and preparatory education in federally qualified health centers. Journal of Cancer Education, 30, 294–300. doi:10.1007/s13187-014-0733-8
Lu, Q., Yeung, N. C., You, J., & Dai, J. (2015). Using expressive writing to explore thoughts and beliefs about cancer and treatment among Chinese American immigrant breast cancer survivors. Psychooncology,. doi:10.1002/pon.3991
Meade, C. D., Rodriguez, E. M., Arevalo, M., Luque, J. S., Harris, N., San Miguel, G., et al. (2015). Introducing biospecimen science to communities: Tools from two cities. Progress in Community Health Partnerships, 9, 51–59. doi:10.1353/cpr.2015.0024
Ferguson Commission. "Forward through Ferguson: a path toward racial equity" 2015
Missouri Department of Health and Senior Services. Life Expectancy