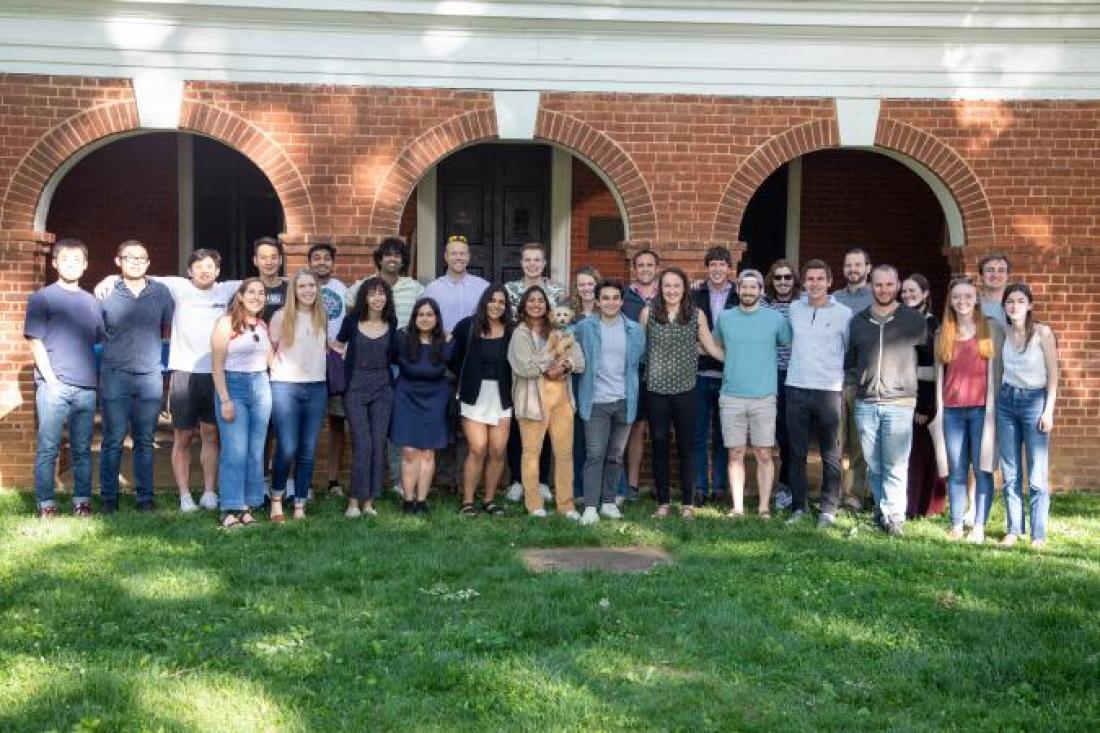 Join us in celebrating our M.S. in Data Science residential and online cohorts as they relive some of their favorite memories from their time at the University of Virginia's School of Data Science. 
Graduates of the Class of 2021
The School of Data Science (SDS) is proud to announce 88 graduates of the M.S. in Data Science Class of 2021. They include 70 residential MSDS graduates, seven of whom are dual MSDS/MBA degree candidates, and 18 Online MSDS graduates.
These students joined the SDS community from a variety of backgrounds and professions, brought their considerable talent and tenacity to their studies, and were open collaborators with their classmates, faculty, and capstone sponsors.
We wish them the best as they embark on their next adventure, whether that's exciting new positions within their company or new opportunities with companies like Apple, Booz Allen Hamilton, Capital One, CCRI, Facebook, and Verisk. Graduates, congratulations, and we look forward to keeping in touch with you as SDS alumni.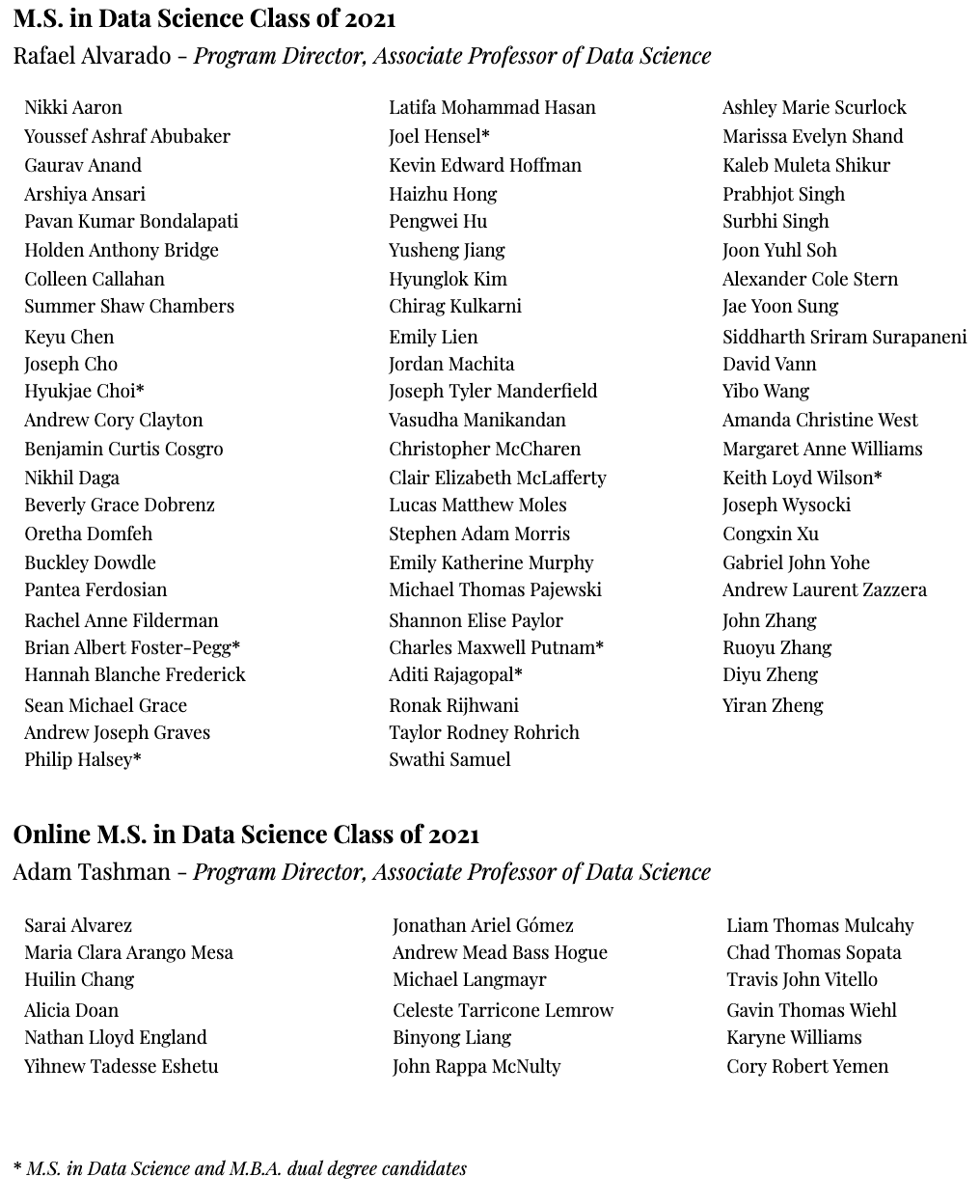 ---
We are also celebrating thirteen December 2020 graduates of the Online M.S. in Data Science Program. 

---
Capstone Projects
M.S. in Data Science graduates are required to complete a capstone project where they work in groups to solve real-world problems using data science skills and techniques they learn in the classroom. Capstone projects are sponsored by a variety of different clients seeking to utilize MSDS students to find innovative solutions.
This year's capstone sponsors included Clarabridge, dBS Productions, InnovateEDU, Internet Archive, LMI, NASA, North American AlMA Science Center at NRAO, RealSelf, Smart Cville, Transworld, US Department of Defense, UVA Anesthesiology, UVA Astronomy, UVA Biocomplexity Institute & Initiative, UVA Environmental Science, UVA Oncology, UVA Pediatrics, UVA Psychology, UVA School of Education, UVA School of Education - Special Education Research Accelerator, and Wiki Education Foundation.
Capstone Advisors
Rafael Alvarado - Program Director M.S. in Data Science, Associate Professor of Data Science
Mohammad Sadnan Al Manir - Postdoctoral Research Associate in Bioinformatics, Department of Public Health Sciences
Donald E. Brown - Senior Associate Dean for Research and Quantitative Foundation, Distinguished Professor in Data Science
Timothy Clark - Associate Professor of Data Science 
Jonathan Kropko - Assistant Professor of Data Science
Gerard Learmonth - Professor of Data Science
Oliver Schaer - Researcher, Darden School of Business
Per Benjamin Sederberg - Associate Professor of Psychology
Jack Van Horn - Professor of Psychology and Data Science
Brian Wright - Director of Undergraduate Programs, Assistant Professor of Data Science
---
Wood Family Outstanding Student in Data Science Awards

The Wood Family Awards are made possible by a generous endowment from the Wood family. Oscar Wood is a founding and active member of the School of Data Science's Data Science Board. Wood is dedicated to the future of data science and passionate about educating future data scientists.
"Use your skills to contribute and impact initiatives for the greater good. It can be immensely rewarding and personally satisfying."
It is because he believes in the future of data science that the Wood family chose to establish an endowment for these awards to recognize student excellence in the field.
Awards are given to one student from each graduating class who has demonstrated overall excellence in academic performance. Nominations are submitted by and voted on by M.S. in Data Science faculty. Award recipients must display outstanding work ethic, dedication to the field, and be excellent collaborators. They must also demonstrate outstanding service to the School of Data Science, University, and broader data science communities.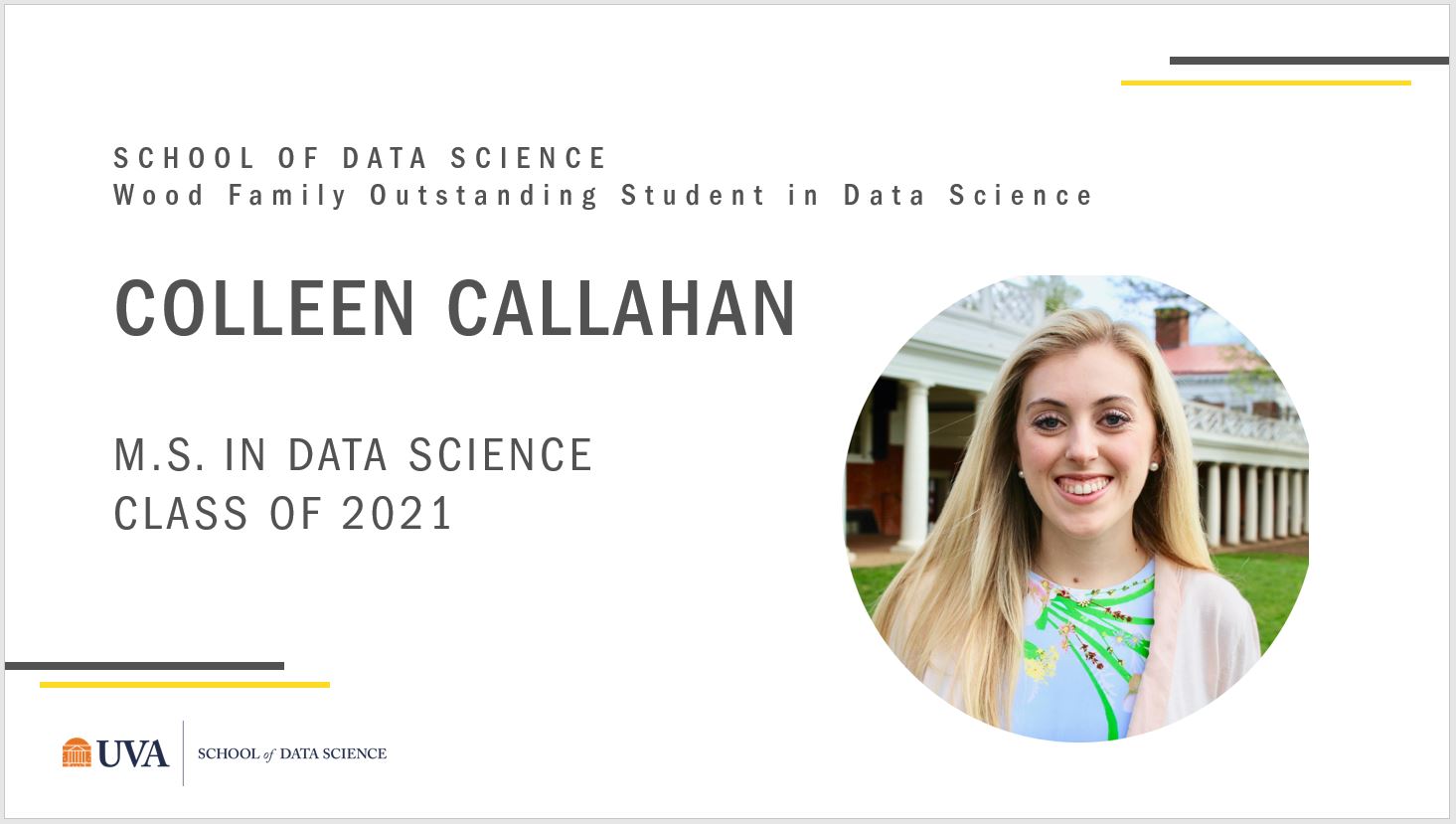 Read more about Colleen here.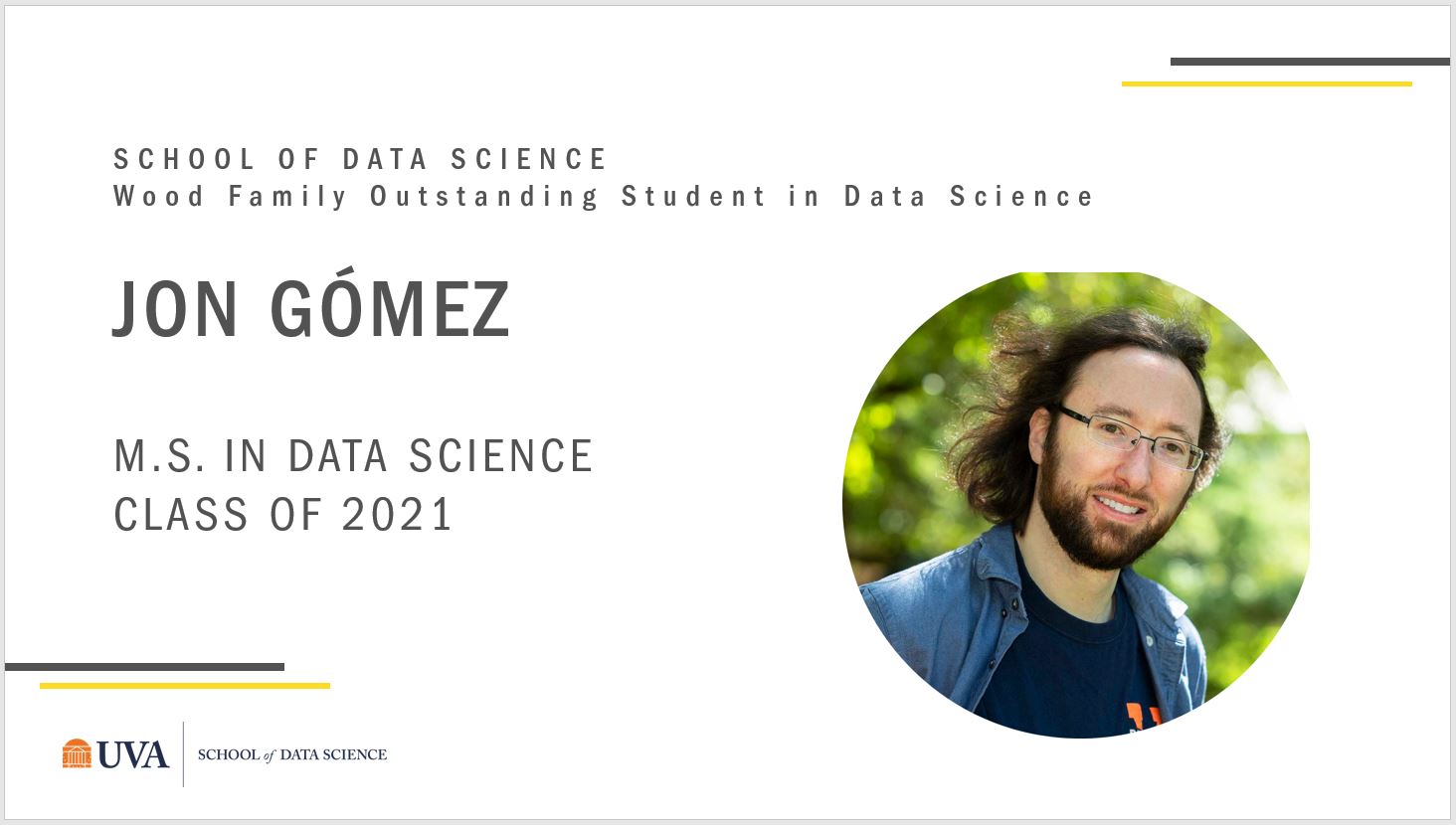 Read more about Jon here.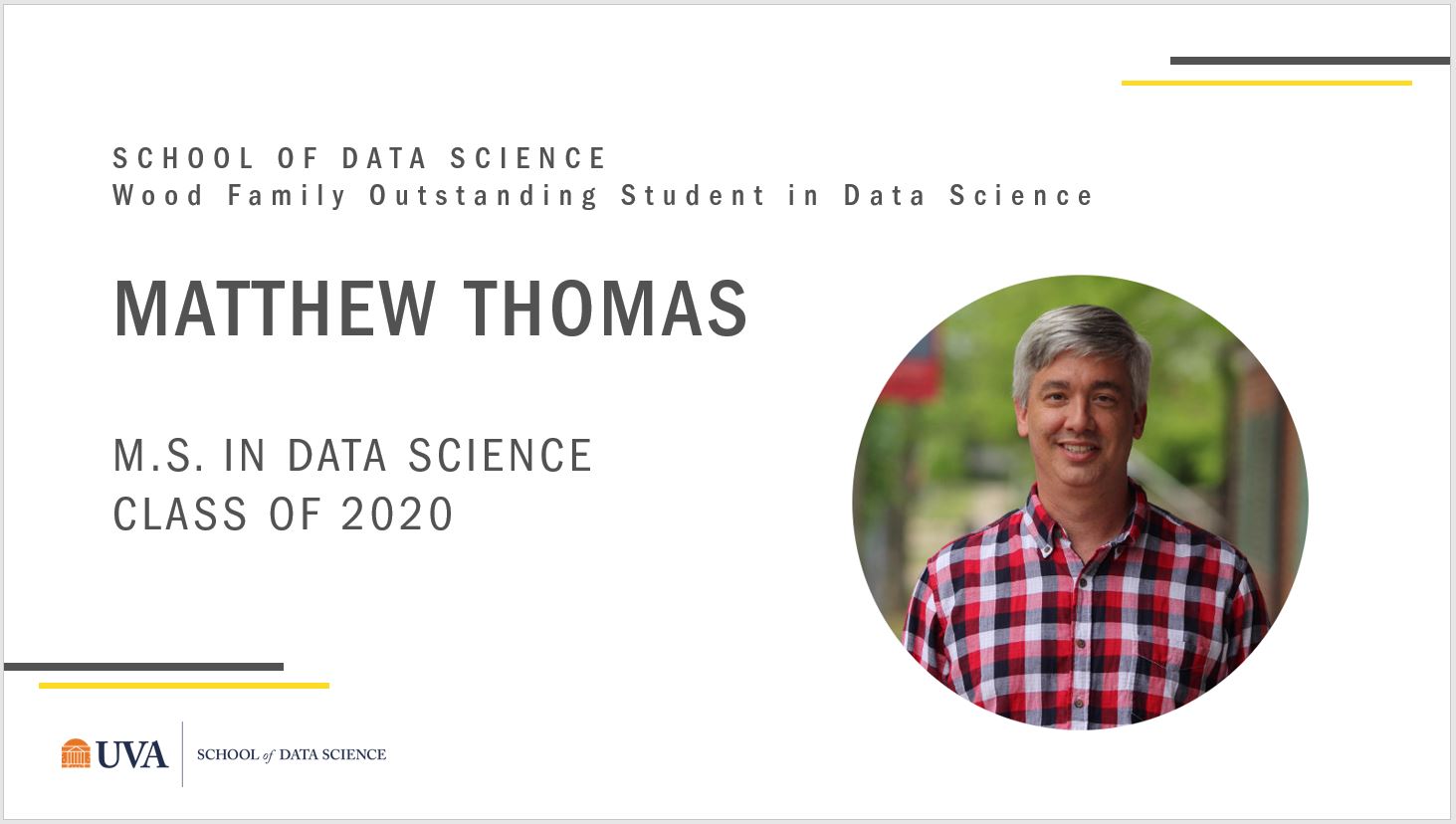 Read more about Matthew here.