Meet the UVA Data Scientist Behind Some of COVID's Most Attention-Grabbing Clinical Trials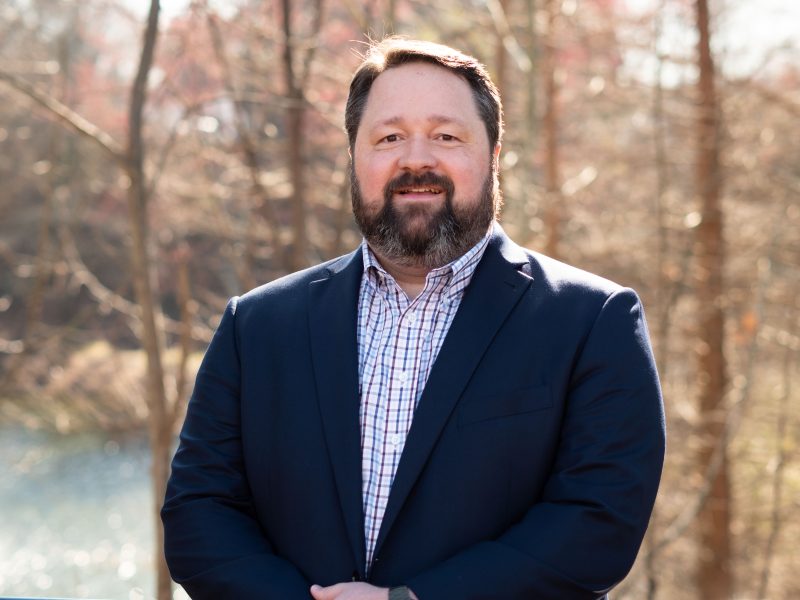 Before the COVID-19 pandemic began, Thomas Stewart worked primarily with nephrologists, or kidney doctors, as a biostatistician, helping them design and execute clinical research projects.
Then COVID hit and he found himself in the middle of a national focal point.
Stewart, who was at Vanderbilt University at the time and recently joined the University of Virginia School of Data Science as an associate professor, became the lead statistician in one of the most high-profile early studies on treatments for the novel coronavirus, focused on convalescent plasma and jumpstarted by none other than musical superstar Dolly Parton, who gave $1 million to Vanderbilt to help fund COVID-focused clinical trials.
"Dolly Parton is in Nashville and she wanted to help," Stewart said. "That money is what started some of the very first clinical trials related to COVID."
The study, called Pass It On, started at Vanderbilt but eventually became a multi-site, National Institutes of Health-funded study focused on the use of convalescent plasma – plasma from the blood of patients who had COVID and then recovered.
"After we have cleared the virus… we have antibodies streaming through our blood that will potentially protect us from subsequent infection," Stewart said. Investigators worked to determine if taking that antibody-rich plasma from a recovered patient and injecting it into a current COVID patient who is not recovering well could reduce the severity and mortality of the disease.
Ultimately, though convalescent plasma was part of the treatment for more severely ill patients early in the pandemic, the Pass It On study indicated that it was not an effective treatment for hospitalized patients with COVID-19.
Still, the study represented an early attempt to learn more about the virus as it swept the world, and Stewart has remained focused on COVID ever since.
"That has been the big push for the past three years," Stewart said. "And, that work is actually continuing and will probably continue for at least another year."
For example, Stewart is also the lead statistician on the ongoing ACTIV-6 trial. This trial, also NIH-funded, investigates the utility of pre-existing medications, including Ivermectin (used to treat parasitic infections), Fluvoxamine (often prescribed for depression), Fluticasone (a steroid often used to treat asthma) and Montelukast (an anti-inflammatory for asthma and allergies), in treating COVID-19.
"There are medications that are already on the market and have a known safety profile, that could be repurposed to treat COVID-19," Thomas said.
Instead of focusing on a single drug, the trial is focused on developing a replicable method for testing drugs, so that researchers can quickly evaluate multiple options.
"We are building a clinical trial machine that allows us to evaluate multiple drugs sequentially or even simultaneously," Stewart said.
Drugs may be tested at different dosages. So far, researchers found no benefit in taking Ivermectin at a dosage of 600 micrograms per kilogram (mcg/kg); Fluvoxamine at 50 mg; or Ivermectin at 400 mcg/kg.
"The platform churns through possible medications, seeing if they might be helpful for COVID," Stewart said. Each step – even the negative findings – helps researchers learn more about COVID, and any positive findings could provide a low-cost, readily-available supplement to existing vaccinations and more scarce antiviral treatments like Paxlovid.
As a biostatistician, Stewart helps researchers design their trials and studies, works with them to ensure that data are collected properly, and leads data analysis during and after a trial. In the ACTIV-6 trial, for example, Stewart and his team coordinate results from participants in every U.S. state.
"This is kind of a unique clinical trial because it's potentially no touch, meaning that a participant does not necessarily need to go to a medical center to participate but can connect to the study on their phone or online," Stewart said. "We will collect data from them, verify that they actually have COVID, send them the drug in the mail and monitor their symptoms as they progress through the disease."
Each month, Stewart meets with statisticians from other ACTIV trials to compare notes and talk through issues.
"All of the trials are very different – some for people who are in the hospital, some with long COVID," Stewart said. "It is fantastic to bounce ideas off of other people who are in the clinical trial space."
Stewart is also excited about the potential for collaboration at UVA, where he will more heavily focus on data science after starting his career in a medical setting.
"I have no doubt in my mind that Vanderbilt was the exact right place for me to start my career. I got the most amazing mentorship from the senior faculty and the mid-level faculty. All of my colleagues were just so influential in helping me grow and develop," he said.
Why make the switch, then?
"In the end, it was about the opportunity to rub shoulders with and learn from people who are taught data science in a completely different language from mine, who approach problems in a completely different way," Stewart said, noting that many faculty in the School of Data Science train in different disciplines before moving into data science.
"There is this appeal of walking two doors down and asking the economist how do economists think about this?" he said, "Or, walking into the office next door and asking how network scientists might be thinking about a problem."
"There's just something really appealing about being all smushed together with people of similar training, but very different training at the same time. That, for me, was one of the biggest reasons for making a switch."
He is also excited about the work-in-progress that is data science education, in a relatively new and fast-growing field.
"It is going to be very iterative," Stewart said of the future of data science education. There will be some things that we will try out that are going to work, others that will not, he said.
In that sense, it's not that different from a clinical trial – and that is right in Stewart's wheelhouse.