Emily Cathey Brings a Humanities Perspective to Data Science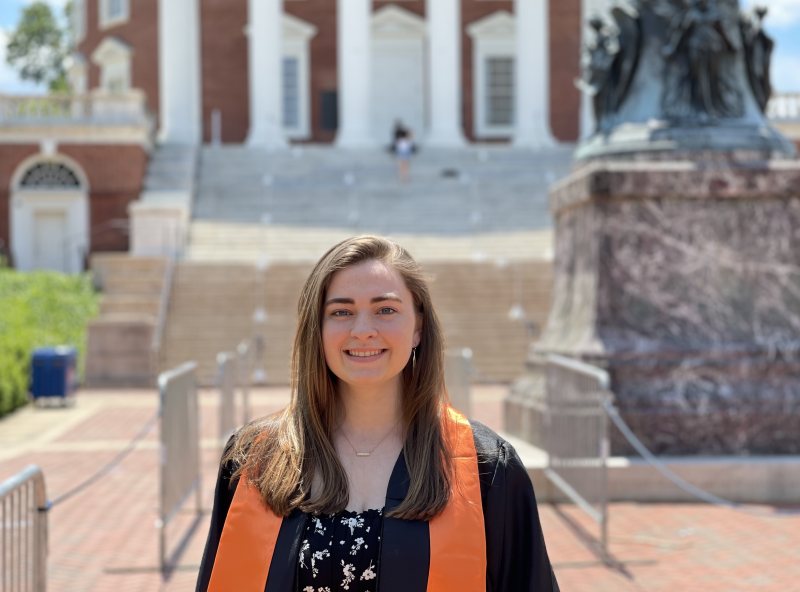 With an undergraduate degree in politics and a focus in American government, Emily Cathey brings a humanities perspective to data science. 
Cathey finished her undergraduate degree in three years and is a current M.S. in Data Science student. In the spring of 2022, Cathey will graduate as a Double Hoo. 
Throughout her undergraduate coursework in politics, Cathey noticed a common thread in almost all of her readings. 
"In every politics class I took, at the end of all of the readings, there was a section about how the study was statistically significant," she said. "I wanted to know more about the numbers behind the narrative."
This led Cathey to enroll in "Introduction to Data Science" during the spring of her second year at UVA. 
"I loved the class and decided to take more. In the end, I decided to minor in data science," Cathey said. 
During the fall of her third year, Cathey landed an internship with a political action committee. While the internship was originally for a communications position, it changed after her interview.
"I told the interview committee about my interest in data, and a couple of days later I got an email from them asking if I would like to be their data analytics intern."
Cathey said there was a learning curve, as she was still somewhat new to data science, having just taken a few classes. During the internship, she was tasked with analyzing where the committee should spend their ad dollars to encourage young people and minorities to vote. 
Through this experience, Cathey was excited to learn more about the intersection of politics and data. Knowing she could graduate with her bachelor's degree in three years but wanting a four-year experience at UVA, she decided to apply to the M.S. in Data Science program. 
"I really appreciate combining the different ways of thinking," she noted. "I spent so many years writing theoretical papers, which I loved, but I also really enjoy the trial and error and technical side of data science." 
After graduating in May, Cathey did not let the month prior to beginning her master's go to waste. She worked as an intern for a corporate housing office in Washington, D.C. in May, where she put her data science skills to use by organizing data, automating systems, and helping with the website. 
Almost two months into the program, Cathey noted she has learned so much in a short period of time and already seeing the benefits of her humanities studies.
"I have brought the skill of communicating complex concepts from my humanities background. An important part of data science is the ability to communicate findings in a digestible way and to explain how the findings have an impact on what you are studying," Cathey said. "I think my humanities background has made me mindful of how to communicate findings effectively, especially to people without a technical background."