Data Science Minor Student Recipient of Casteen Award
Sanjeev Kumar, a third-year data science minor, has received a Casteen Award in honor of his commitment to creating a setting that promotes diversity, equity, and inclusion at the University of Virginia. Kumar is the founder and captain of Virginia Ke Aashiq, a Bollywood fusion dance team that is gender inclusive. He also launched the Memorial Benches Initiative, which recognizes a recent student from each school with an aim to expand the representation of women and people of color on Grounds.
 
Kumar received his first introduction to data science in a course with Professor Brian Wright, who helped Kumar explore subject areas outside his comfort zone. "Prior to that intro course, I had no experience with computer science, coding, or anything related to data," said Kumar. "However, the course taught me so much about how data is integrated into everything with our lives--and that data science can exist in subjects that may not be STEM related."
 
Now in his third year as a double major in American studies and business, Kumar is interested in "using data science to digitize and contextualize the story of Asian Americans at UVA, which is an intersection of my academic career that I never knew could have existed," he said.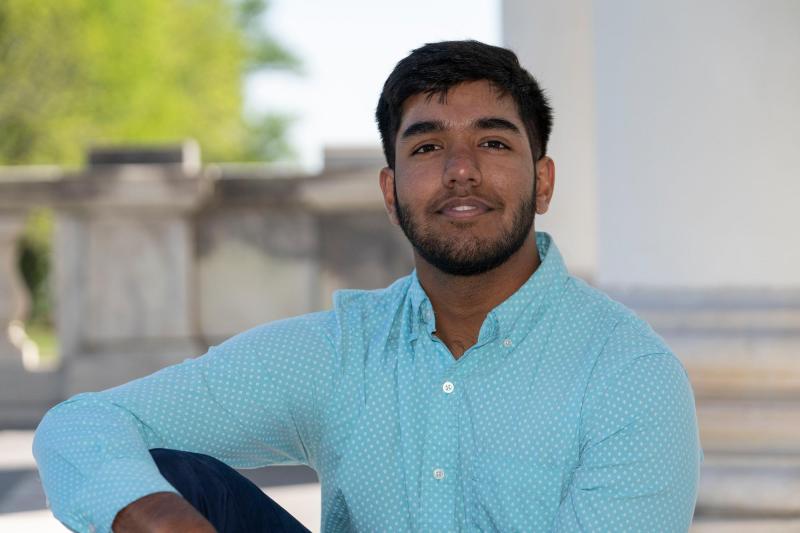 Professor Wright, director of undergraduate programs at the School of Data Science, applauded Kumar as a standout in the data science minor. "He represents exactly what we hope in that he's combining the skills he has developed in the minor with his business education in really exciting ways," said Wright.
 
Over 300 students are enrolled in the data science minor, which launched in 2020. Kumar said the minor has given him the opportunity to learn new, broadly applicable skills that also complement his major. "The data science minor is incredibly flexible," he noted. "Even one of my database management classes at McIntire fulfilled one of the data science minor requirements."
 
When asked if he had advice for anyone interested in pursuing a data science minor, Kumar said, "Go for it. I was on the fence about it initially, but after taking that first step, I can't imagine data science not being a part of my UVA experience. It changed the way I will pursue my academic and professional careers. I highly recommend the minor."
 
The Casteen Award was established in 2010 by the University's Division for Diversity, Equity and Inclusion, with President Emeritus John Casteen being the first recipient. Kumar is one of three recipients of the award this year. The other honorees are Jennifer Hulvey of the School of Law and Garrick Louis in the School of Engineering and Applied Science. Read the full announcement here.