Cloudy, with a Chance of Algal Blooms
Water. It covers 71% of the Earth's surface. It makes up 50 to 65% of the average human body. It regulates body temperature and is a major component of all cells, organs, and tissues. Needless to say, water is very important. 
So, what happens when algae unexpectedly blooms in a drinking water reservoir or a recreational lake?
A whole host of things can happen. If humans drink water with algal bloom toxins, it can cause a wide range of symptoms, including nausea, fever, joint pain, liver damage, and more. Pets drinking from water sources with algae blooms have experienced respiratory failure, and in some cases died.
Algal blooms are not an unusual phenomenon, and this kind of exposure, both to humans and animals, is on the rise.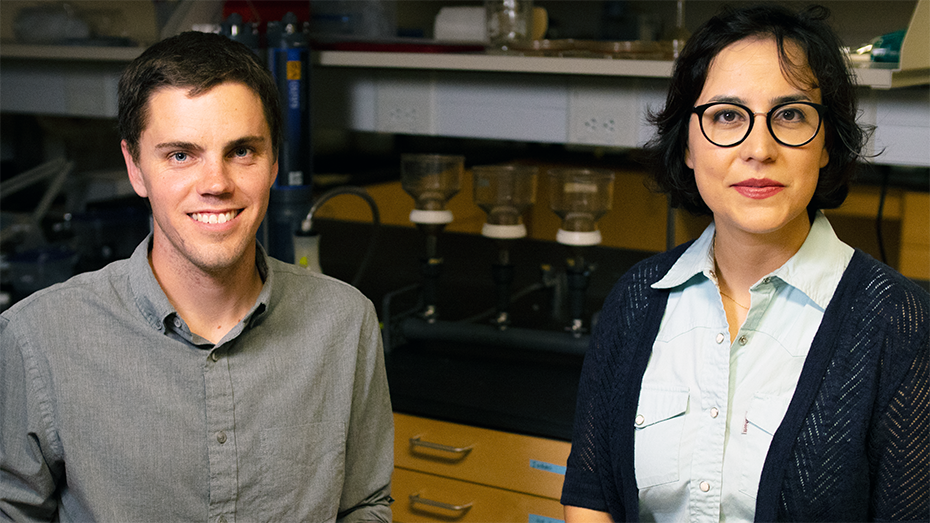 Doctoral students Cal Buelo and Neda Nazemi want to change that. 
"Algal blooms can cause a lot of issues," Buelo explains. "A big area of concern is cyanobacteria, or blue-green algae, which can create toxins. There has been a lot of news coverage this summer, in Virginia, and all along the East Coast of blooms, nasty blooms [...]. They can create toxins that are very harmful for health." 
However, this issue goes even beyond health, Buelo says.  
"Beyond ingesting the water, it also [creates] recreational issues. You don't want to go swimming or boating in a lake with algal blooms," he says. "Aquaculture and commercial fishing can also be affected by these toxin build-ups."
But what can be done?
Buelo, an Environmental Science doctoral student, is teaming up with Nazemi, a Systems Engineering doctoral student, to better understand this problem and find a solution.
For Buelo, studying algal blooms is not new. He discovered his passion for this topic years ago, as an undergraduate student at the University of Wisconsin, where he double majored in Biology and Mathematics. 
"As an undergraduate, I worked with a professor that collaborates with my current advisor, Mike Pace," Buelo says.
Following graduation, Buelo continued to work with Pace as a research technician. He then began his Ph.D. in environmental science at UVA and is now in his fourth year of the program.
For Nazemi, water toxicity and management is an issue that hits close to home. In fact, Nazemi's path to this project and her course of study have taken her across the world. 
Born and raised in Iran, she completed a bachelor's degree in chemical engineering at the Sharif University of Technology and a master's degree in biotechnology at Tarbiat Modares University. 
It was the condition of the drinking water in Iran that piqued Nazemi's interest in this topic. 
"I was more concerned at that time [when getting her master's degree] by nitrates, [specifically] elevated nitrate levels in water resources," Nazemi says.  
High levels of nitrate in water sources can restrict the transport of oxygen in the bloodstream and be extremely harmful for humans, especially children. 
Upon graduation, Nazemi worked for an environmental consulting group for four years, where she continued to work on water treatment projects. She then decided to continue pursuing this area of research by earning her Ph.D. in Environmental Engineering at UVA.
"I started working on qualitative analysis on water governance issues," Nazemi says. "I was still focused on my home country, because it was my interest, [and] how I could help to better manage their limited water resources there."
While she dove further into understanding water governance, she realized she wanted to know more about the data behind water toxicity and algal blooms.
"I just recently in the last two years got more interested in quantitative analysis, and I actually transferred my Ph.D. from Environmental Engineering to Systems Engineering," Nazemi says.
Together, these two researchers have come up with a project to bring together their fields of expertise to better predict algal blooms. Their project, Comparing modeling approaches for algal bloom forecasting to enable proactive management, is part of the Presidential Fellowships in Data Science program. Through this fellowship, Buelo and Nazemi have access to funding and opportunities to work across their disciplines to address this real-world issue using both traditional and cutting-edge research techniques. 
Testing Water Samples from Michigan to Charlottesville
Buelo and his research group have been collecting water samples for this project for several years. Specifically, they have done experiments, caused algal blooms, and tested water from three small lakes in the upper peninsula of Michigan, Lake Mendota in Wisconsin, and Beaver Creek Reservoir in Charlottesville. 
With this massive, organized data set, Buelo and Nazemi take two different approaches to studying these samples and predicting algal blooms. 
"I'm going to be more focused on mechanistic and statistical methods," Buelo says. "[I'm using more] mechanistic models, where a certain amount of nutrients, sunlight, and temperature translates to a certain amount of algae with very strict relationships between those variables."
Nazemi, on the other hand, is using machine learning to study and forecast algal blooms. Applying machine learning in this area is relatively new, but an exciting aspect of the research project.
"Cal is actually looking more into finding the reason behind blooming [and] finding an explanation behind this phenomenon. But for me, I am looking at this phenomena as a black box, and I am looking for the outcome," Nazemi says. "I just want to know when it [the algal blooms] happens so we can take some practical measures that can help us to prevent it." 
Two are Better than One
How does their work come together?
"We're working together on these two different modeling approaches and comparing and potentially combining them to see which is most accurate," Buelo says.  
Buelo added that since there are many different types of data coming from the various lakes and reservoirs, his model for forecasting the blooms may work better for one type of data, while Nazemi's model may work better for other types.
"The hope is that by doing these types of comparisons we build the knowledge so that this [their forecasting models] can get more widely used," Buelo said. 
The potential outcomes of this project are vast. With water experts better able to understand and predict algal blooms, water management companies could know when to access that water or not. The information regarding algal blooms could then be communicated throughout cities near lakes and reservoirs, cautioning the public and thus preventing water toxicity poisoning to both humans and pets. 
Furthermore, Nazemi and Buelo added that costs of freshwater eutrophication and algal blooms are estimated to be $2 billion cost in the U.S. annually.
With the potential to reduce both disease and cost, both of which are on the rise because of algal blooms, this project stands to make a significant impact for communities.