Brian Wright Brings Data Science to Life for Undergraduates at UVA
Since joining the University of Virginia, in 2019, Brian Wright has been a tireless advocate for its newest school, the School of Data Science, and a driving force behind the proposed B.S. in Data Science program, which is now with the State Council of Higher Education of Virginia for review.
Wright, the director of undergraduate programs for the school and an assistant professor, has led the Minor in Data Science program since its launch in 2020. That program has proven extremely popular with UVA students and currently enrolls more than 500 students hailing from 54 majors and every school across Grounds that offers an undergraduate degree.
"We designed the minor in data science to be available to any student on Grounds, of any major or any background, who is interested in coming and learning about data science," Wright said in a video describing the minor. "We also designed it to represent the foundations of data science. We spent some time thinking about what those are and created a degree that mirrors those."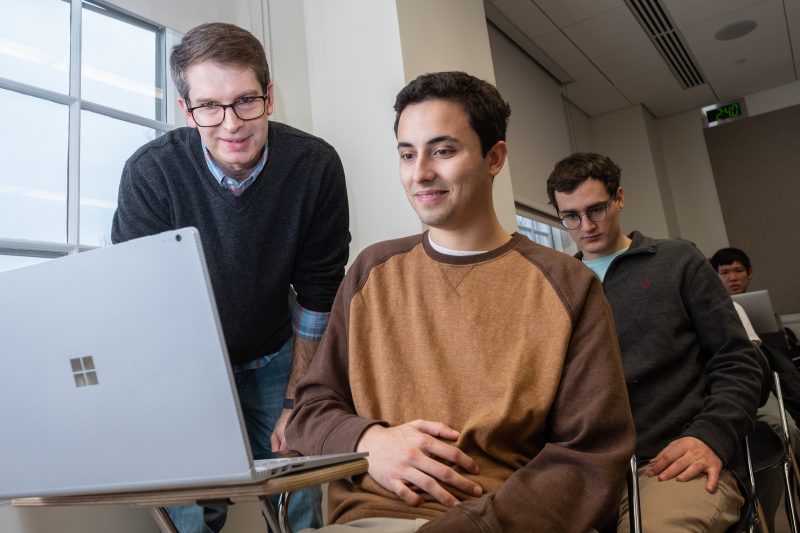 There are five key areas of the curriculum: programming, systems, analytics, communications and ethics, and an applied course where students put what they have learned into action. For the applied course, students can opt to complete a team-based project throughout the semester, mirroring what they would do if they pursued a career in data science. 
"[The curriculum] is essentially a manifestation of what we feel is essential to data science," Wright said.
The minor, Wright said, gives students a strong foundation in data science that they can use in a variety of ways, whether they are jumping straight into a career or pursuing graduate school.
"It is a very nice thing to add to a resume when you are going out on the job hunt," he said. "If students aspire to graduate school, it creates a very nice foundation to jump into some of the master's programs in data science. I think that will become an increasingly important part of moving on into graduate programs, showing that you have done more in the undergraduate space as those options are starting to expand."
The minor also gives students an opportunity to network with others interested in the field.
"We are starting to have a large number of students within the minor who are collaborating and sharing opportunities," Wright said.
The minor program will serve as a basis for the new B.S. in Data Science program, which was approved by the Board of Visitors in March 2023 and now pending approval from the State Council for Higher Education of Virginia. That program will require 120 credit hours in four domains: systems, design, analytics and value. Some of the courses will overlap with the minor, supplemented by additional mathematical courses and options for different tracks as students advance their education.
Wright calls it "a liberal arts degree for the data age."
"We're involved in an economy and in a space where our data is everywhere. It's becoming importantly critical for students, if they want to engage in the modern economy, to be able to be data literate," he said. "So, we see it as foundational, along with English and mathematics and political science skills, to be able to be conversational and understand what it means to be living in the data age."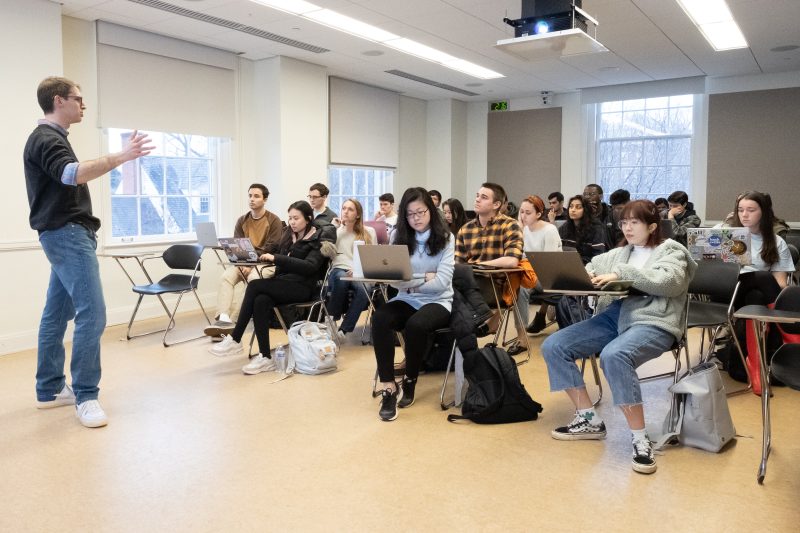 Within the B.S. program, students will be able to focus on more technical topics, such as engineering, analytics and machine learning, as well as topics that overlap with traditional liberal arts degrees – data design, art and visualization, social science, and questions of data ethics and justice.
"There are lots of pathways for students with different interests," Wright said. "We see our students being able to go in a wide variety of different places, whether that's nonprofits… organizations that focus that focus more on data storytelling and visualization, into big tech firms. or government positions."
Wright and his colleagues in the School of Data Science believe that demand for the skills and concepts they teach will just keep growing.
"The nice part about data science is that it's pervasive … and it only continues to grow," he said. "So, this degree, we think it'd be open for any student, regardless of background or interest area, and we've created multiple pathways for more creative aspects or more analytical aspects into the degree which I think is an important part of it. And then it allows students to enter and succeed in a wide variety of industries."