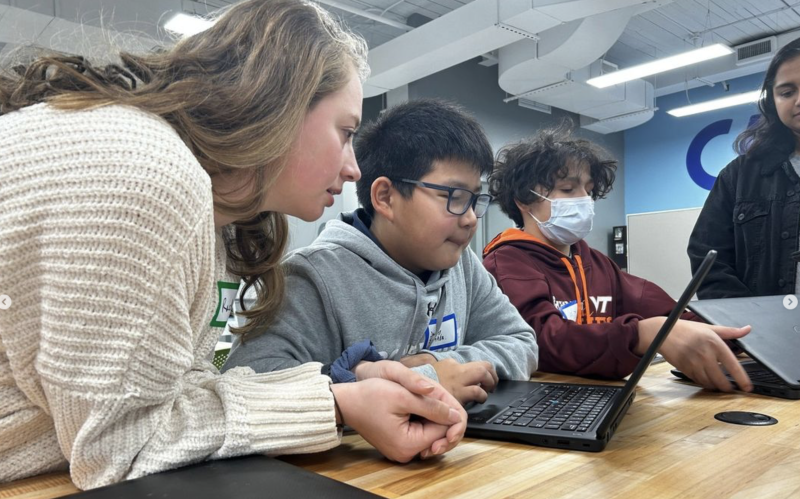 2030 Vision: Recruit and support exceptionally talented, diverse, and service-oriented students. Recruit, support, and retain excellent and diverse faculty and staff. 
K-12 Partnerships

Starr Hill Pathways is a program of the UVA Equity Center to provide the social, technical, and research infrastructure to redress educational inequities that persist in the Charlottesville-Albemarle region. Starting with 7th graders, Starr Hill Pathways creates a system of support for local youth from historically marginalized communities, while building a pathway for admission to the University of Virginia or the college and career that best meets their needs. For three weeks each summer, the School of Data Science sponsors a data science career pathway experience for middle school students. As the program grows, the School is committed to supporting each cohort throughout their high school and college admissions experiences with regular exposure to the field of data science. 

C4K (Computers for Kids), located in Charlottesville, is a nonprofit that combines mentoring and technology to prepare youth for brighter futures. Membership is open to youth in 6th-12th grade who are eligible for free or reduced lunch at school.  The School of Data Science has partnered with C4K in multiple ways, including hosting workshops for members with students in our residential master's program.

The Data and Society Challenge is a competition for 11th and 12th grade students in Virginia's Planning District 10 (the counties of Albemarle, Fluvanna, Greene, Louisa, and Nelson, as well as the City of Charlottesville) to introduce them to a data science problem and how to solve it using the 4+1 domains of data science model. The Academic Data Science Alliance, PredictioNN, and the School of Data Science will launch the first challenge in the fall of 2023.
University Student Engagement

The School of Data Science Office of Student Affairs offers robust academic, social, career, and other services to support the success of students in the School's programs. In addition to this support, the School of Data Science partners with and/or hosts multiple targeted programs to highlight additional opportunities for student excellence and affirmation.

The Public Service Pathways program is designed to help undergraduate students at UVA connect to public service as a personal commitment, a lifelong practice, or even a career. Pathways is designed to help students get the knowledge, experiences, and career guidance they need to make positive change in the lives of others. Through the Pathways program, students choose from a mix of internships, research and service opportunities, mentoring, and alumni connections to expand on their academic interests and plan for their future.

Community for Opportunities in Research Excellence (CORE) Scholars are undergraduate UVA students who have a passion for science, are dedicated to making a positive difference in the world, and are committed to fostering inclusive excellence in STEM education.

Women in Data Science (WiDS) Charlottesville features women doing outstanding work in data science but welcomes all genders to attend and engage. It is an independent event that is organized by the School of Data Science as part of the annual WiDS Worldwide Conference. First hosted by Stanford University in 2015, the conference has now grown to nearly 200 events worldwide in more than 50 countries.