School of Data Science Awards First Inclusive Excellence Graduate Fellowship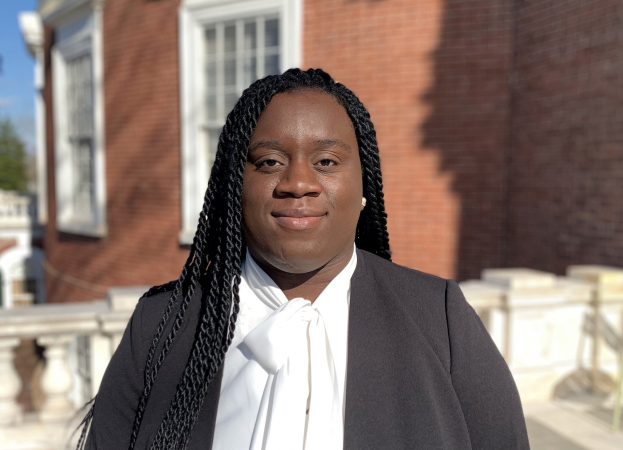 Angela Boakye Danquah is the recipient of the first-ever, merit-based M.S. in Data Science Graduate Fellowship for Inclusive Excellence. She looks forward to learning how to apply data science to public policy.
Boakye Danquah is a recent graduate from the University of Virginia's College of Arts and Sciences, earning a B.A. in Economics and Statistics in May 2021.
Born and raised right outside of Washington, D.C., Boakye Danquah had a close-up view of government decision-making and how numbers influence those decisions. "I have a passion for public policy and legislative decision-making. I grew up in the Washington, D.C. metro area and have always been conscious of the fact that some of the most important decisions that impact our lives are made just a short distance from my own home."
Throughout high school, Boakye Danquah excelled in her advanced math courses and knew she wanted to pursue a quantitative path in college. "When I got to UVA, I took my first economics class, Principles of Microeconomics, which I really enjoyed," Boakye Danquah said. "That's when I decided I wanted to major in economics. One of the requirements for the economics major is a statistics class, where I learned concepts that ultimately led me to pursue data science." 
Through statistics classes at UVA, Boakye Danquah was introduced to machine learning and programming and learned how powerful these tools can be in analytics and real-world decisions.
"My economics and statistics education at UVA has exposed me to the importance of data science in the public policy field," Boakye Danquah remarked. "I recognize that public policy and legislative decision making can often be a very divisive and passionate subject, especially in recent political history; however, I feel that the best public policy decisions are fueled by data-charged intelligence. 
Patti Edson, Director of Admissions and Financial Aid, applauds Boakye Danquah's path to data science and passion for what data can achieve in society. "What makes Angela's candidacy for the fellowship unique is how she plans to leverage the power of data science on her path toward making an impact in the world," Edson said. "Once exposed to the importance of data-driven public policy, Angela realized she needed the technical skills necessary to unlock the answers to complex societal issues that she cares about deeply." 
During her undergraduate career at UVA, Boakye Danquah was also an exemplary student leader. 
She was involved in the Arts Department at UVA, specifically in the Black Monologues, a student-driven production that brings together 30 students to explore the black student experience at UVA through live theater. Cross cultural drama professor Theresa Davis directs this annual performance. 
"During my second year, I was a part of a Black Monologues play, which I loved. Through that, I met Professor Davis, and she asked that I be stage manager for the 2019 production. It was so fun to be a part of that experience."
Looking toward the next year, Boakye Danquah is thrilled to be joining the School of Data Science. Boakye Danquah remembered hearing about the launch of the new School in 2019 and thought it would be a great fit with her interests in data science. 
"The M.S. in Data Science program is very compatible with the job that I hope to get one day and more tailored specifically to my interests than any other professional degree I was considering."
As she looks forward to her time at the SDS and what this fellowship means, Boakye Danquah is hopeful to find female mentors in the field and to be an inspiration for other women or people of color to pursue data science as a profession. 
"I hope to encourage other aspiring female data scientists so that one day, it'll become more normalized for women and women of color to enter tech fields," Boakye Danquah remarked. "I hope to use the skills that I would acquire through this program and contribute to the wealth of information used to serve the American people."
The fellowship, made possible by a fund spearheaded by SDS Advisory Board members Linda Abraham and Sam Wholley, will be given annually to an incoming MSDS student of color or first-generation female who demonstrates high academic achievement, leadership potential, and a passion for data. 
"It is critically important for the leaders of data science practices to have diverse perspectives, viewpoints, experiences, and backgrounds," Wholley noted. "When this happens, data will authentically represent truth. My hope is that the future leaders shaped by this initiative will also bring others along from diverse backgrounds to give them opportunities to further themselves and others in their pursuits to find truth in data."
"I could not be more excited to have Angela as the first recipient of the Inclusive Excellence Award," said Abraham. "In an increasingly data-driven society, her passion and growing skillset around both data science and public policy will play a critical role in developing frameworks around effective, inclusive and ethical uses of data that help strengthen society. As a woman entering the field of data science at such a formative time in our history, the opportunities for young leaders like Angela to make a huge impact are boundless. I have no doubt she will make the DSI proud."
The Inclusive Excellence Graduate Fellowship Fund, set up in partnership with the Alumni Association, is open to additional donations by interested alumni, parents, friends or corporate partners. For more information on supporting the fellowship, please contact Chief of Staff Arlyn Burgess.