Oracle Internship Hires Three Data Science Minors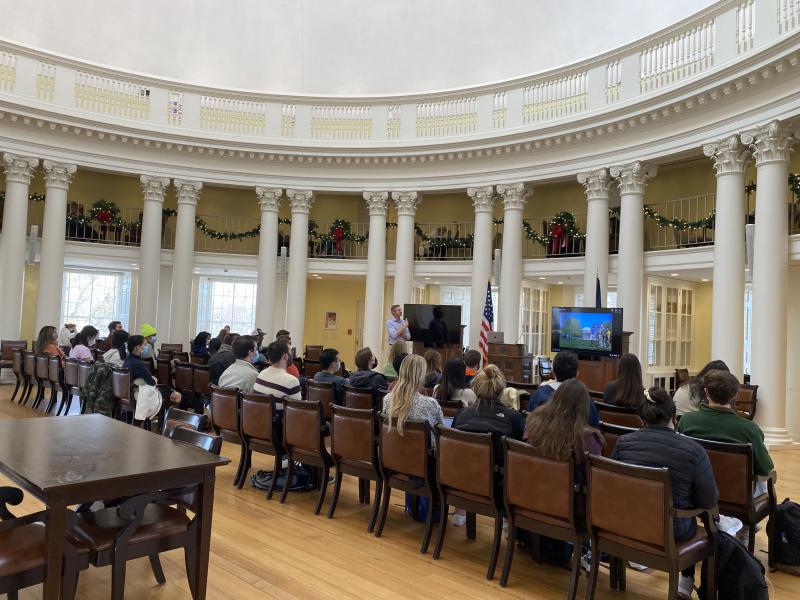 Three UVA data science minor students were selected to do a brand new internship through Oracle started by Jason Williamson. Williamson is Vice President of Oracle for Startups and Oracle for Research as well as a Lecturer at the School of Data Science. 
This fall, Willamson teaches a course titled "Data Science Systems" for undergraduate data science minor students. in the Dome Room of the Rotunda. In this course, Williamson applies data science to industry and teaches about the end-to-end project development process.
While teaching, Williamson had an idea to launch an internship through Oracle. Most internships are during the summer, however, Williamson wanted this to be a year-long internship where students could do it remotely while not missing any school. 
"I wanted the students to have a full year to do a rotation through Oracle for Startups," Williamson explained. "The uniqueness of this program over other big tech is that after you do your rotation at Oracle, we loan you out to a startup in our portfolio. That gives students experience both at an enterprise software firm and the startup experience - something really hard to do.They will learn how we approach startups, Venture, marketing, customer support, and product development."
In the Oracle internship, these students will be working 10 hours a week with a startup doing data science work. They will get direct, hands-on experience working for both Oracle and a startup. This year three students from the Data Science Minor were chosen for the internship program: Emily Feng, Joe Bartlett, and Jaden Stanford. They will also join two student interns from the United Kingdom. 
"I am most excited about getting to learn more about Oracle Cloud Infrastructure and working with the other interns in the program," Stanford said. "I like that the Oracle for Startups division is global so I will get to meet people from all over the world. I think diversity in tech promotes the best company culture."
Williamson adds that he plans this to be a recurring internship annually for Data Science Minor students at UVA. 
"I'm so excited to be able to launch a new longer-term internship at Oracle for Startups with Data Science minor students from UVA," said Williamson. "These students not only bring the technical skills from data science to Oracle and our portfolio companies, but also bring diverse perspectives from various majors across the University. We can see the true power of data science at the intersection of technology and the pursuit of knowledge."