Datapalooza 2022 Draws Record Numbers
Datapalooza 2022 was a huge success. Held on November 11, this year's event returned to Newcomb Hall with in-person, livestream, and virtual options. More than 240 people braved the rain to attend in person and over 830 online views were recorded during the livestream. The day was packed, with the program kicking off at 9:30 am and running through 6:00 pm. The program featured 32 speakers, 18 research lightning talks given by School of Data Science and University faculty, a career panel with industry experts, a seminar on the future of data science higher education, roundtable lunch discussions, poster session, and keynote speaker Cathy O'Neil.
"Datapalooza is not only a celebration of data science, but also a measure of the evolution of our School of Data Science," remarked Phil Bourne, Dean of the UVA School of Data Science and one of the guest speakers during Datapalooza. "We have come a long way as the depth and breadth of the research presented attests. Beyond that, the presence of key speakers and data science leaders from across the region speaks to the role we are playing. I am very grateful to everyone in the school for playing an impactful role."
Datapalooza is an annual conference hosted by the University of Virginia's School of Data Science that brings together more than 500 attendees from higher education, industry, and the greater data science community. First launched in 2015, Datapalooza has evolved from a research exposition to a platform where anyone interested in data science can connect with experts and expand their knowledge and skill sets. Designed for students, faculty, professionals, and friends of data science, Datapalooza aligns with the core values of the School of Data Science—to further discovery, share knowledge, and make a positive impact on society through collaborative, open, and responsible data science research and education.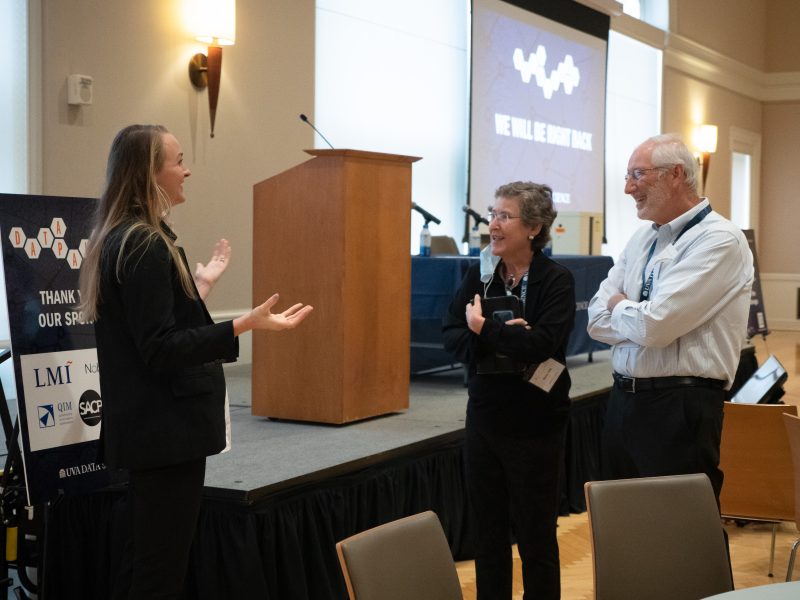 A highlight of the event was the 18 research lightning talks that were held in two concurrent sessions. Data topics included design and visualization, sports, neuroscience, environmental resilience, health equity, and critical data studies. Eleven faculty from the School of Data Science participated, with the remaining speakers from across the University and beyond. In addition, Datapalooza featured guest speakers from the Academic Data Alliance, University of North Carolina at Charlotte, and the University of Michigan, along with industry panelists from the Brooklyn Nets and BSE Global, Capital One, and LMI.
"Datapalooza was a phenomenal experience," said Nikita Amanna, a master's in data science student. "I enjoyed going to the sessions on Data in Health Equity and Data in Neuroscience, as well as the discussion by academic deans and the career panel. What really stuck out as a highlight though was the Brain Science is a Data Science session by Professor Jack van Horn. He gave an incredible presentation that brought the field of neuroinformatics to my attention. I would tell anyone and everyone interested in data science to attend next year!"
M.S. in Data Science student Gargee Jagtap agreed. "For many students in the [master's] program, Datapalooza was their first conference experience and being surrounded by their peers and faculty really helped ease their nerves." She went on to admit that it was a great introduction for students to data science conferences and what to expect. "The concurrent lightening talks were a huge hit, and many of us appreciated talking with alumni about their experience in the workforce and how the program helped them." Jagtap also enjoyed the closing keynote by Cathy O'Neil. "After the conference, I was discussing some of the ethical questions she raised with my classmates. Overall, Datapalooza was a huge hit and I really enjoyed it."
The event featured the launch of the Data Entrepreneurship Challenge offered in partnership between LMI and the UVA School of Data Science. This challenge calls on innovators to spur progress around health equity solutions through the design of artificial intelligence (AI) to drive insights that are coupled with adoption strategies. Following the motto of "if users don't trust it, they won't adopt and use it," this competition, open to student teams at the University of Virginia, seeks to deliver actionable solutions to impact health equity while also demonstrating how the full potential of advanced analytics and AI can only be achieved when supported with robust change management and adoption strategies.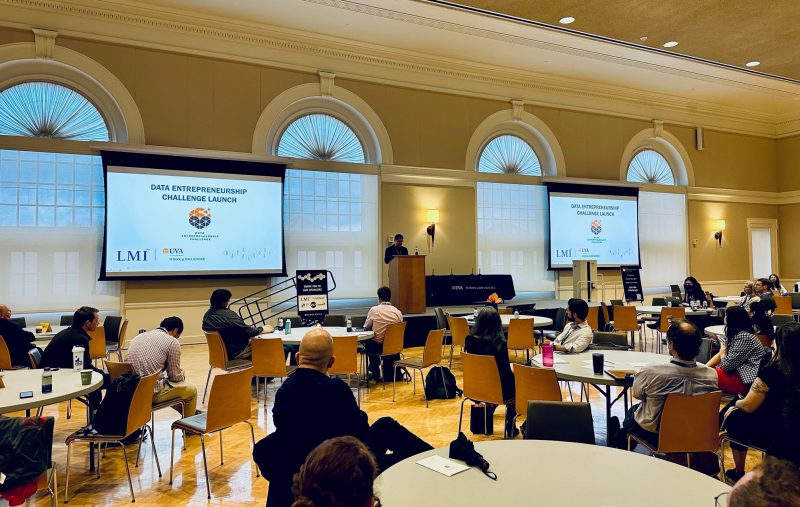 Datapalooza concluded with a keynote by data scientist and mathematician Cathy O'Neil. Her address covered how algorithms themselves weren't evil, but how they were applied could be biased and a basis for inequality and discrimination. A prolific voice in academia and the private sector, O'Neil's New York Times bestseller Weapons of Math Destruction: How Big Data Increases Inequality and Threatens Democracy was a semifinalist for the National Book Award, and she recently released her latest book, The Shame Machine: Who Profits in the New Age of Humiliation. O'Neil is an algorithm audit consultant and partners with Fortune 500 companies, government agencies, and nonprofits to determine whether the algorithms they use for data analysis and day-to-day operations are truly ethical. O'Neil is a visiting scholar at the UVA School of Data Science. 
Many thanks to our sponsors who made Datapalooza 2022 possible—LMI, NobleReach Foundation, QIM, SACP and Capital One—and the many speakers and School of Data science volunteers who organized the event and made it a success.
Many of the Datapalooza 2022 sessions will be posted to the School's YouTube channel.