Introducing Siri Russell, Associate Dean of Diversity, Equity, and Inclusion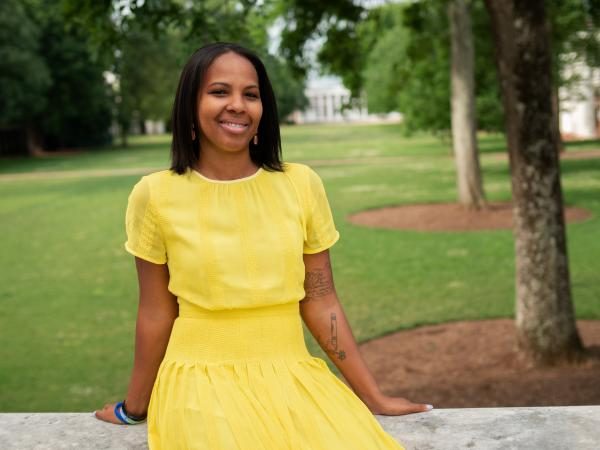 Siri Russell joins the School of Data Science (SDS) as the Associate Dean of Diversity, Equity, and Inclusion, a position created to be an integral part of the School's leadership team and an important advocate for equitable and responsible use of data to serve the common good. The position is one part of an ongoing mission to further DEI within SDS and build partnerships across Grounds and in the Charlottesville, data science, and global communities.
According to Dean Phil Bourne, "The opportunity afforded SDS is rare indeed. We have the opportunity to establish a culture that maps to the world of today, not that of yesterday. It, therefore, gives me great pleasure to have created the position and now hired our first Associate Dean of Diversity, Equity, and Inclusion, Siri Russell. Siri has the needed real-world experience, having implemented diversity, equity, and inclusion practices within local government. That experience will be invaluable as she works with us and across the University to establish SDS as a place where all are equally welcome and represented."
Russell has served as the inaugural Director of Equity & Inclusion for Albemarle County since 2018, where she led the creation and implementation of  the County's DEI program and initiatives. Her work was extensive and impactful, ranging from revising diversity recruitment strategies to creating a framework for assessing the equity impacts of policies, practices, and legislative actions. She collaborated closely with human resources on harassment and discrimination policies and created an organizational DEI curriculum with an emphasis on workplace application. 
When asked what attracted her to the position, Russell noted, "I was inspired by the School's commitment to using data science to achieve positive outcomes. Their mission is not just stated but put into action, and their work effects change on a large scale while transforming the field. I want to be part of an organization that is influential in setting the tone for what the future of data science should look like."
Russell is a self-proclaimed doer. "Most people agree with the idea of DEI, but what makes the School of Data Science so compelling is the ability to apply diversity, equity, and inclusion to the actual work. The SDS community - from faculty, staff, to students - has a real interest in effecting change." 
The School of Data Science was established in 2019 by the largest gift in the University of Virginia's history. It was founded on a core set of common goals: to further discovery, share knowledge, and make a positive impact on society through collaborative, open, and responsible data science research and education. In addition to offering a range of degree and non-degree programs, the School's research impacts broadly, from health sciences to technology, environmental science to education. 
"What gets me really excited is the intersection of theory and practice," remarked Russell, "I'm interested in exploring how data science can empower communities, individuals, and policy-makers to improve outcomes and maximize societal benefits."
She reflected, "I come from a service-oriented background and have served on the boards of several non-profits. I'm interested in joining an institution that is committed to being useful. It's not about standing in front necessarily, it's about what it looks like to support, elevate, partner, collaborate, and that's what you see in the SDS mission and values. It's all about service."
SDS is committed to collaboration and training responsible practitioners, and Russell brings her years of experience working in Charlottesville and building partnerships to the School. Not new to UVA, Russell currently serves on the President's Council on UVA-Community Partnerships Workgroup and was a past lecturer at the School of Architecture. She also serves on the board of the Virginia Museum of Natural History and Piedmont Court Appointed Special Advocates. 
Students are a big part of what also attracted Russell to the position. "I see my role with SDS as a mentoring opportunity - for me and for them. I believe in preparing students to be responsible and inclusive leaders. Today, it's more important than ever to have an adaptive mindset, know how to build trust across teams and different demographics, and have the skills to value difference."
Russell holds a bachelor's degree in sociology from Piedmont College, a master's in community and economic development from Pennsylvania State University, and will complete an MBA from Duke University in 2022.