Datapalooza 2019 charts direction forward for new school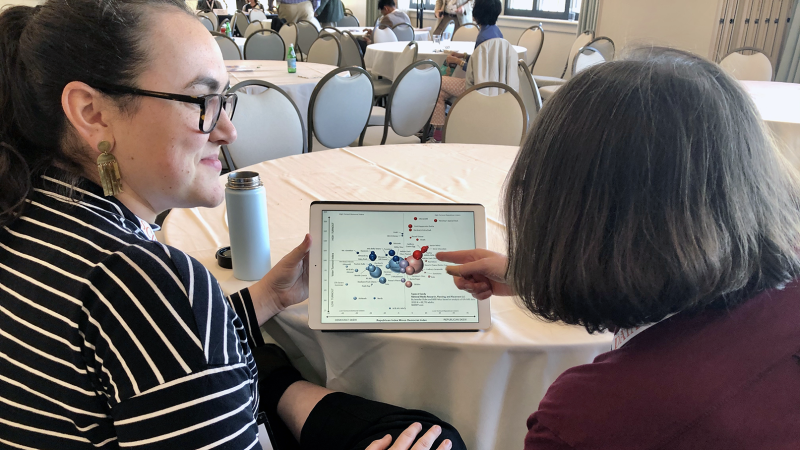 At Datapalooza 2019, more than 40 speakers from across the University of Virginia (UVA), representing seven schools, two initiatives and institutes, and the UVA Library, joined more than 200 attendees to discuss the intersection of data science and a breadth of diverse fields.
"Datapalooza has always been a showcase for data science research happening across UVA," said Claudia Scholz, Associate Director for Research Development at the School of Data Science. "This year we wanted to go beyond current data science and generate conversations about the future: what should UVA be doing in this space?  Specifically, how is UVA uniquely positioned to make an impact?" 
Scholz explained that to answer this question, the School of Data Science took a look into current areas of research. She was interested in learning more about research agendas, infrastructure, and faculty actively interested in data science with "a reputation, or the potential to build a reputation for excellence."
After delving into these questions and examining the various projects ongoing at the School of Data Science, clear domain areas emerged. These included education, health, technology, society, and more. 
"Each session organizer was asked to bring speakers together who could speak to the intersection of data science and their domain area, with a vision toward identifying strengths and opportunities," Scholz noted. 
Dr. Kathleen McManus, assistant professor at the UVA School of Medicine, specializes in infectious diseases and international health, in particular HIV healthcare delivery and HIV outcomes. McManus participated in the Data & Biomedicine panel at Datapalooza.
"In infectious diseases, and in particular in HIV care, we have a lot of data and we need help [...] figuring out how we can use it to predict what's going to happen to patients so that we can intervene earlier," McManus said.
During the Data and the City panel, participants discussed the impact of data on city planning and community engagement. Smart devices aggregate into smart and responsive buildings, smart roads, smart infrastructure, and smart, beautiful, and human-centered urban environments in which we live, work, and play.
Given the ubiquity of internet-connected devices that nearly all people carry, "we are the city," said panel moderator Eric Field, director of information technology and lecturer in the School of Architecture.
Panel participant Mona El Khafif examines the interdisciplinary aspects of urban design and strategies for smart cities.
"I think I have a specific view on the analysis of data, but I also believe that a data scientist can open the horizon, so I'm really looking at collaborations on both ends, before the design takes place, as well as after data has been generated," said El Kafif, assistant professor of urban and environmental planning in the School of Architecture.
Cities now employ sensors to track climate, light, energy, pollution, noise, traffic, and crime. This can provide insight and information not only to urban planners and community activists, environmental scientists can also better understand climate change through data.
The Data & Climate panel explored the ways data and data science can address climate change. Panelists included experts from UVA's School of Engineering, Batten School of Leadership & Public Policy, and the College of Arts & Sciences.
As environmental scientists, "we need to come up with new ways to do what we do, but do them faster," said Andres Clarens, associate professor of civil and environmental engineering and director of the Virginia Environmentally Sustainable Technologies Lab. "I think that data science has a real opportunity to do that, because developing the methods for understanding some of these complex systems is much easier to do if you can bring some of the tools that data science has pioneered over the past decade to bear on these problems." 
Ethical considerations in data science impact all of these disciplines, projects, and areas of study. Though data science has transformed the conduct of some approaches to social science and medical research, it is vitally important that ethical dimensions are a part of research planning and execution. The panel on Data and Ethics discussed ways to ensure that responsible data use—from privacy, to data sharing, to bias and more—is a natural part of every research project. 
"The University, this institution, and every institution, needs to take a courageous approach to data sharing and data access," said panelist Phillip Boyce, JD, senior research program manager for the Center for Diabetes Technology. "This is the key that is going to unlock the potential for data science in medicine, and elsewhere."
In addition to a vast array of panels, with professors, deans, researchers, and other experts speaking about the ways data science intersects with their particular domain, Datapalooza had opening and closing keynote speakers, who spoke to the importance of data science more broadly.
The opening keynote speaker was Victoria Stodden, who spoke on "Advancing Data Science as a Science: Paradigms, Practices, and Infrastructure." 
"The opening keynote by Victoria Stodden was about research reproducibility, laying the foundation for all of the day's conversations to emphasize scientific rigor, and open sharing of data and algorithms," Scholz said.
The closing keynote speaker was Sallie Keller, whose talk highlighted the ways that data are representative of community and society, and the ways that data science can serve the public. 
"What I love about data science is how it is problem focused," Keller said. "It's about bringing data to bear on real problems, and frequently very applied problems."
Datapalooza also set the stage for future collaboration among schools across Grounds specifically through collaboratories, or research groups that cross discipline boundaries to use the power of data science to advance domains across Grounds. The School of Data Science has already established a Collaboratory with the School of Education and Human Development. With so many faculty from varying schools present at Datapalooza, this allowed for further discussion regarding additional collaboratories.
"As we compile and analyze the notes from the Datapalooza sessions, we are looking for the most promising areas to develop additional collaboratories," Scholz said. She also added that the School of Data Science is already in communications with pan-University Institutes, including the Global Infectious Disease Institute, the Environmental Resilience Institute, and the Brain Institute.
Datapalooza successfully shed light on the way data impacts essentially every sector of society and how research at UVA, specifically through collaboration with the School of Data Science, can move forward and create positive change.