Data Ethicist Renée Cummings Finds Global Audience Promoting Ethical AI
2022 was a year of spreading the word for Renée Cummings, and she is not likely to slow down.
Cummings, previously a Data Activist in Residence at the UVA School of Data Science and now a Professor of Practice, focuses on the responsible, ethical and equitable use of data and artificial intelligence (AI) technology. In addition to her role at UVA, Cummings is a non-resident senior fellow at The Brookings Institution and a criminologist with a background in criminal justice science, juvenile justice and rehabilitative justice.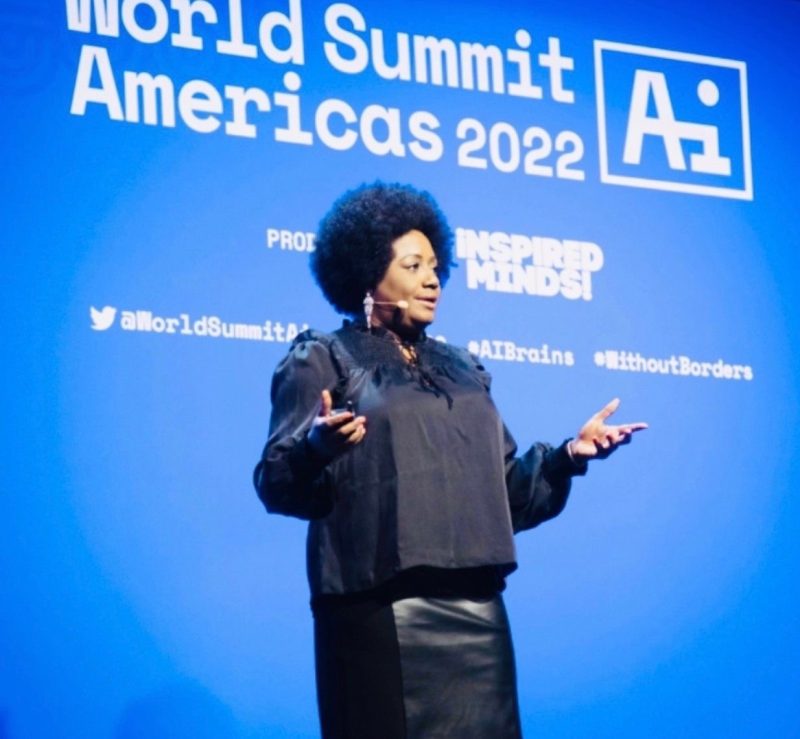 Recently, Cummings has spoken to groups around the country and the world, ranging from high school students in North Carolina to a roundtable discussion hosted at the European Union Parliament in Brussels as the EU discussed AI-focused legislation. Cummings has even made a television appearance – offering expert analysis in criminology and criminal psychology iCrime with Elizabeth Vargas – and has been named to several "best of" lists, including the "Top 50 Innovators in AI" (named by World Summit AI) and "50 Influential Women" (named by InspiredMinds!).
And, just this month, the World Economic Forum invited her to be a part of its council looking at data equity, an influential position that will further elevate her work on the international stage.
To Cummings, it feels like her work has met it's moment.
"Everyone is so interested in how we do technology responsibly. Coming from that perspective of criminal science, and being an ethicist when it comes to AI and big data, I think my perspective has been fresh and welcomed," she said. "I think it is a contribution that I need to make, as someone who is committed to a justice-oriented and trauma-informed approach to the ways in which we use data, and really ensuring that if we are going to make the best decisions with data, we have to bring an ethical, inclusive perspective."
A good example of Cummings' ideas at work can be found in Grand Rapids, Michigan. Cummings visited the city in November for a public discussion series, called "Disrupting Data Injustice," that focused on how bias in data and artificial intelligence can lead to racial disparities in criminal justice, health care, employment, education and more. Cummings was able to participate in discussions at universities, with local government agencies, with the chief of police and the head of the NAACP, and with the Chamber of Commerce.
"That was something novel, that an entire community would come together to hear me speak about disrupting data injustice, because that community is so committed to data equity and to building a future for Grand Rapids that is not only diverse, but equitable and inclusive," Cummings said.
In her talk, Cummings spoke about how AI and big data can solve big challenges, but also create big challenges.
"Data is as powerful as it is vulnerable," she said – to attacks, to breaches, to bad actors and to our own biases. Cummings talked about how companies use data, and concerns that it could be monetized, weaponized or politicized in ways that cross ethical lines or harm vulnerable groups.
"All data are not created equally and different communities experience data differently," she said. 
Data is important because it helps us make accurate, efficient decisions, but we need to be clear-eyed about what or who we are deciding to include or exclude in those decisions, she said, and what legacies or biases might carry over from previous systems. How are we deciding who gets a loan? Who gets a mortgage? Who can have good credit? Does criminal justice data have a bias? What about health care? Education?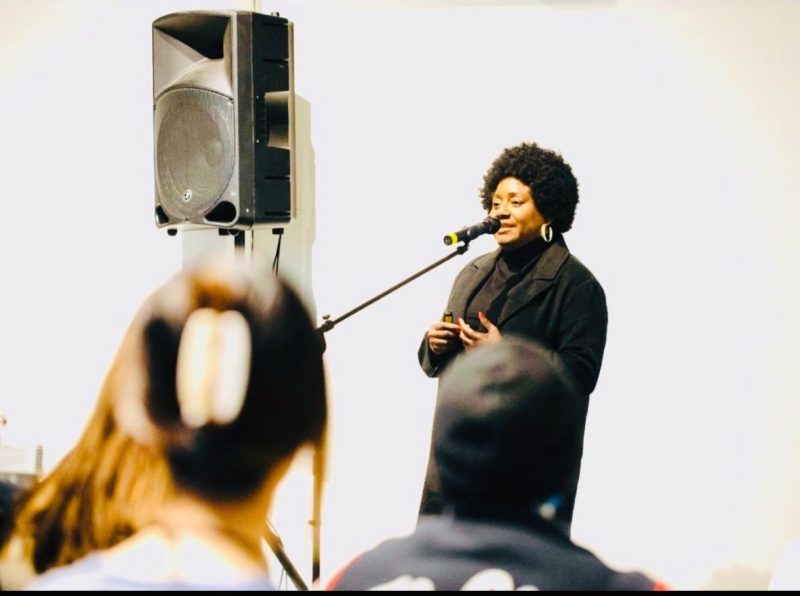 One example Cummings cited came from ProPublica, which found that software analyzing recidivism risk used historical data that disproportionately included Black Americans. In justice systems using this software, Black Americans received a higher risk score – indicating the likelihood that they will commit another crime – and that score influenced decisions about bail and trials. As ProPublica pointed out, all of those decisions could be based on unfairly biased data.
"Many of our data sets are destructive because they continue to replicate and repeat past prejudices," Cummings said. "What we are doing is automating the status quo."
That is why ethical oversight is so important.
"No technology is neutral," she said. "We need to continuously question the objectivity of technology because of the opaque nature of many of our data systems, many of our algorithmic systems."
As an antidote, Cummings focuses on key principles including accessibility, diversity, representation, welcoming different voices, and "multi-stakeholder engagement" – bringing the community, including those most vulnerable to bias or exploitation, into the conversation at every level. Bringing diverse voices into the decision-making process, and staying accountable to the concerns Cummings highlights, can help ensure data equity in nearly every sector, from criminal justice to health care, to education, and even to the very foundations of our democracy.
"If data science and using data is about data and decision-making accuracy," it is also about democracy," Cummings said in her Michigan talk, pointing out how misinformation, disinformation and bias can wreak havoc in a democratic society.
That is why the White House recently released a "Blueprint for an AI Bill of Rights," to guide the ethical use of automated systems, and why the European Union is debating a proposed Artificial Intelligence Act to regulate AI systems used in EU markets. Cummings was in Brussels discussing that act as 2022 came to a close.
"This is the most major legislative offering when it comes to AI governance, understanding the ways in which we need to do AI ethically … and understanding that we have a responsibility, if we are going to develop and deploy and adopt algorithms, to understand the risks that come with them, the rights that may be undermined. And, we have a social responsibility to do AI in a way that is not only ethical but ensures that all groups are able to build equitable legacies," Cummings said.
This year, Cummings is looking forward to continuing those conversations at every level, from the World Economic Forum to her classes at UVA.
"I just love what we're doing in this School of Data Science, and I think we are about to do some major things has we hire new faculty, as we hire diverse faculty, and as we continue to build," Cummings said.
Her position as data activist and now as a professor of practice has allowed her to "create an extraordinary platform on which I stood and I spoke about the importance of ethics and bringing our value to the data science space, and about data justice," she said.
"I think the strides we are about to make in the realm of data science, education and training, ethical data science and introducing ethical data science into the industry are going to be major."