Building networks to build a career
This story is part of a School of Data Science series featuring the experiences of our MS in Data Science alumni and the paths they've taken to their data science careers.
Charu Rawat's passion for data science has taken her all over the world, from Hyderabad, India to Charlottesville, Virginia, and now to New York City.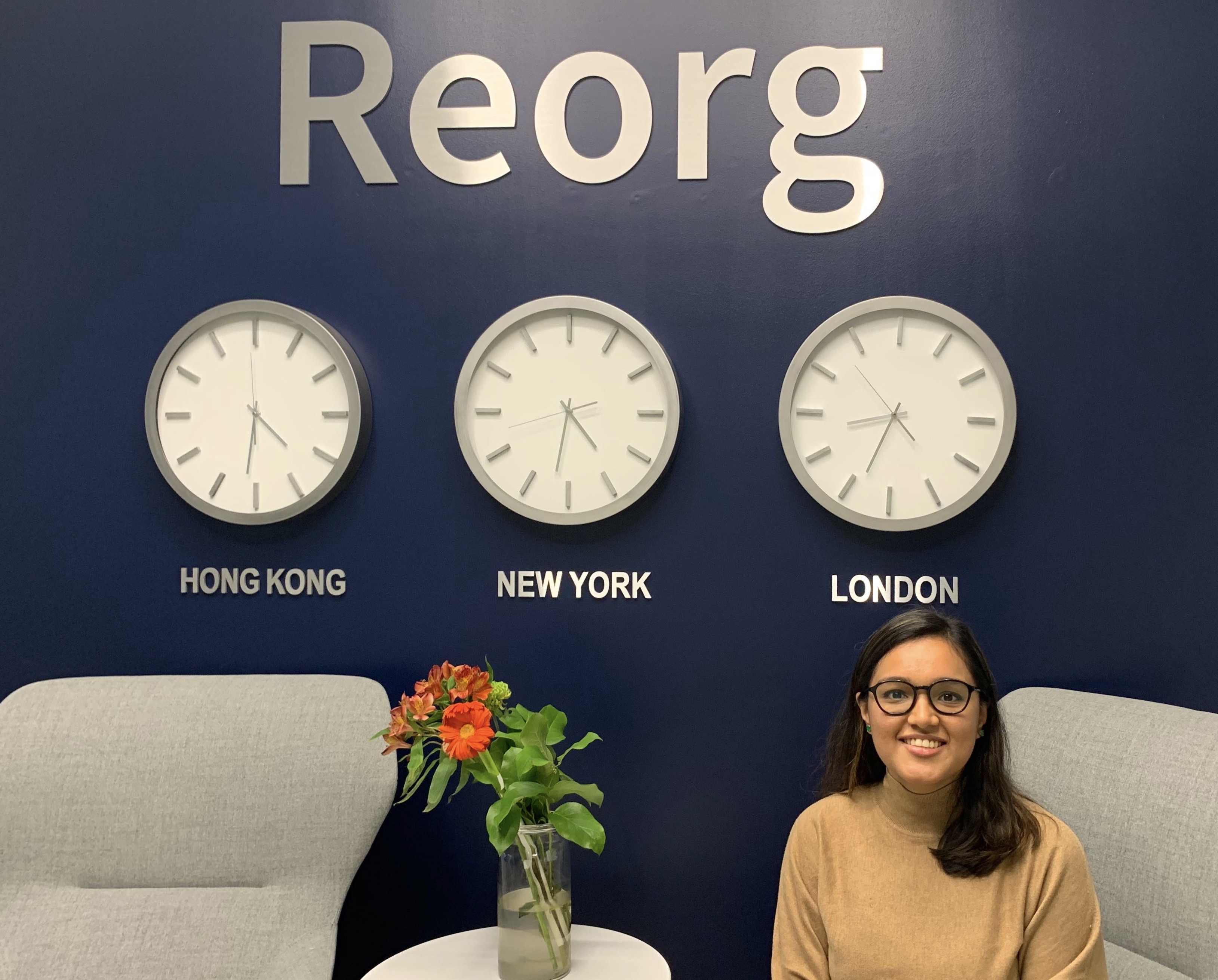 Rawat graduated from Delhi University with a Bachelor of Science in Mathematics in 2015. She then took her skills to The D.E. Shaw Group, a global investment and technology development firm. As a data analyst for the hedge fund, Rawat worked in alternative investing within the Equity Strategy Group. 
"That is where I really got exposed to analytics," Rawat says. "It definitely compelled me to pursue a career in data science, and that's how I came to UVA."
After working at D.E. Shaw for three years, Rawat decided to continue her studies and follow her passion for data by starting her Masters in Data Science at in 2018. 
At UVA's School of Data Science, Rawat soaked up every opportunity to learn from professors, collaborate with fellow students, and discover what she really wanted to pursue in a data science career. 
The Blue and Orange Path to Reorg
Rawat's time at UVA led directly to her current job as a Data Scientist at Reorg. 
"It wasn't very typical," Rawat says. "Essentially, I managed to escape the entire grind of job hunting. I was fortunate enough to utilize a relationship I formed at UVA."
That relationship grew out of an elective course Rawat chose to take her last semester as a Masters student. The course, called Text Analytics, was offered through the McIntire School of Commerce. Rawat was the only MSDS student in the class, and she jumped fully into the material, getting to know her classmates and instructors. 
"It was in this class that I met Sree Mallikarjun, who was an instructor and a visiting scholar at the McIntire School," she says. "Sree is the VP of Data Science and Technology at Reorg, a firm with its roots based in New York."
There turned out to be more than just one Hoo working at Reorg. In fact, UVA alum Kent Collier, a graduate of the McIntire School of Commerce, is the Founder and CEO of the company. 
"It's quite the UVA story," Rawat says about her job search. 
Through discussions with Mallikarjun and projects she worked on in the elective, Rawat's interest was piqued more and more by Reorg.
Reorg analyzes and synthesizes data that affect business and markets using a broad range of experts and technology. Rawat soon learned that much of what Reorg does is driven by data science, specifically through machine learning (ML) and natural language processing (NLP).
"The editorial team combines reporting with financial and legal analysis to provide a holistic view of topical situations in the financial market and delivers that view in real-time through our proprietary platform, which is powered by ML and NLP applications," Rawat says. 
Rawat's decision to fully invest in the course, and in her projects, classmates, and instructors made all the difference in pointing her towards her future career path. 
"This whole experience of working with an industry professional in a classroom setting and solving real business challenges culminated into me doing an internship for two months at Reorg, towards the end of which I was offered a full-time role as a data scientist," Rawat says. 
Rawat especially valued that the course brought an interdisciplinary focus, combining data analysis with business.
"The course was great in providing me with those skills and at the same time I gained an understanding of the business perspective," she says.
Additionally, Rawat's capstone through the Masters program furthered her interests in learning and leveraging her ML and NLP skills from the School of Data Science. In that project, she worked with massive amounts of unstructured text data, which she explained is the largest source of human-generated data, growing exponentially on a daily basis.
Rawat knew she wanted to continue working with unstructured text data, and so she accepted a full-time offer from Reorg after her two month internship. In September, she moved to New York City and started work. 
From the School of Data Science to the Big Apple
"As a data scientist at Reorg, I work on complex problems at the intersection of finance and technology to improve business and create new business avenues," Rawat says.
In this job, Rawat applies more than just data analytics to her work. She utilizes the in-depth, technical machine learning, natural language processing, and text analytics foundation she formed at the School of Data Science.
"I like the idea of creating and building something, and at Reorg, as a data scientist – that's what I'm getting to do."
Rawat is now a data scientist, and a New Yorker. 
"I love living in New York City," she says. "I've been a couple of times before so I always dreamt about working here so it's really amazing."
Rawat is an extremely talented scholar and she also credits her UVA connections as being instrumental in her path to Reorg. She is thrilled to be at the company and solving problems that excite and challenge her.
"I knew I wanted to be a part of a small, strong team of data scientists where the work being done directly fuels company growth. I wanted to be part of a company that embraces a data-driven culture," Rawat says. "Reorg does exactly that."