Dedication and curiosity pave the way to success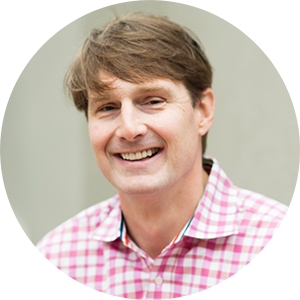 An early practitioner of data science for investment management, Jaffray Woodriff has served as a major influencer and resource to the Charlottesville startup and entrepreneurial community.
Woodriff, a University of Virginia graduate from the McIntire School of Commerce, co-founded Quantitative Investment Management (QIM), a Virginia-based global trading firm. He currently serves as CEO, although his interest in data science has been a lifelong passion.
"When I was 9 or 10 years old," he said. "I became interested in odds and probability. I would obsessively roll a pair of dice to see seven win, and six and eight duke it out."
A Charlottesville native, Woodriff grew up working on a farm. His strong understanding of incentives came from his experience harvesting grapes on his uncle's vineyard. And being paid by the quantity harvested showed him the importance of hard work and motivation.
Woodriff, along with his two co-founders, created QIM in May 2003 as a private trading account. By late 2003, the three opened up to outside investors and have been managing client funds ever since. He says that it is exciting using his own system.
"I quickly figured out I didn't want to be a broker or working for commissions," he said. "I just can't stand being part of the herd and simply accepting the consensus. I want to evaluate everything on my own."
As an undergrad, he took a course in economics and found himself discouraged with some of the conclusions drawn by academics. On his final exam — a multiple choice test — Jaffray purposely chose answers his professor would mark incorrect, and chose to provide alternative explanations instead.
"The professor ignored everything I wrote," he said. "He gave me a failing grade of 51. I didn't really care that much...in fact, I'm glad I did it, because I know how wrong some of the 'correct' answers were."
Woodriff is clearly dedicated to seeing his ideas through. He once worked for more than 40 hours straight in the UVA Engineering School using twenty different computers to test his trading system. This Pepsi-Cola-fueled double all-nighter resulted in the platform for data science still used today at QIM.
"I slept for 24 hours straight," he said. And upon waking, "I went back to the computer lab and continued cranking.
"Although I didn't pull any more all-nighters."
Woodriff claims much of his success is owed to his ability to objectively evaluate his own progress, a skill his father instilled in him. He is optimistic about the future of data science and the opportunities it can provide, particularly in Charlottesville. The versatility of the field was an initial draw for Jaffray, and he hopes to continue to discover new functions.
"I believe data science is still in its infancy," Woodriff said. "And I would like the University of Virginia to be a true global leader improving data science for the betterment of the world. I hope the positive impacts of my career are only beginning to show themselves.
"Data science has broad applications, and if it has limits, we are not yet close to even seeing them."
---