DSI researchers presenting at Tom Tom Applied Machine Learning Conference
Five Masters of Science in Data Science students, three alumni, and a staff member from the University of Virginia's Data Science Institute have been selected to present at the second annual Tom Tom Founders Festival Applied Machine Learning Conference in April.
Jack Prominski, Abhimanyu Roy, Caitlin Dreisbach, Morgan Wall and Ali Zaidi will be sharing the stage alongside researchers from the Massachusetts Institute of Technology and The New York Times.
"The presenters at the Applied Machine Learning Conference are highly established in the field," DSI Assistant Director for Career Services Reggie Leonard said. "It is really impressive that our students were selected because it is highly competitive."

Dreisbach, Wall and Zaidi will present their Capstone project, which investigates how immune system cells can be used to detect and treat neurological injuries and disorders. The researchers have been studying the lymphatic system's connection to the immune system and the brain, something previously unknown before it was discovered by UVA's Center for Brain Immunology and Gila (BIG). 
"We are trying to use data science to overcome key issues in large, publicly available datasets of gene expression," said Dreisbach. "The central objective is to develop analytic methods of finding how to use these cells to detect and treat these disorders."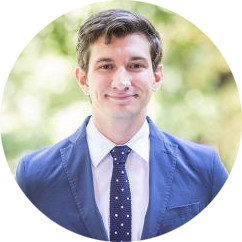 Prominski's research focuses on using data science to eliminate partisan biases in United States Congressional district drawing. By using data from the US Census, he is developing an algorithm to group districts based on equally-sized population clusters, potentially offering a solution to cases like the U.S. Supreme Court case Gil v. Whitford, investigating the issue of how to draw politically fair districts.
"This is a topical and important societal issue today," Prominski said. "And on top of that, it is a difficult problem for which data science has a clear solution.
"I'm looking forward to sharing my findings, hearing some feedback, and connecting with others in the Charlottesville data science community."
Roy will present his recent study that investigates how National Football League results can be predicted using long-term data. He is using recent neural networks, which is data based on time, so, in this case, football seasons, in order to anticipate NFL team wins. By studying a team's choice in trades and draft picks, Roy is hoping to be able to determine sports outcomes like never before.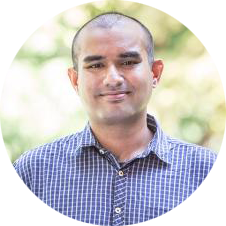 "It's a fun project that helps people understand a pretty pedantic subject," Roy said. "If someone comes up to me after my presentation and says they would like to know more, I would be over the moon."
Past MSDS student presenters at the AML conference have gone on to find career opportunities as a direct result.
"Our involvement in the conference provides an opportunity for us to showcase the types of students we train and graduate," Leonard said. "And it is also a great opportunity for our students to show what they can do and the research they are interested in."
In addition to these students, MSDS alumni Tyler Hutcherson ('17), Monica Ranjendiran ('17) and Thom Miano ('15) will also be presenting at the conference, as will Wikimedian-in-Residence Lane Rasberry.

The event will take place at the Violet Crown Theatre in downtown Charlottesville on April 12. Tickets to specific conference sessions can be purchased here.