Environmental Sensing Network for the Public Good
For their capstone project, James Howerton and Ben Schenck, graduates of the first cohort of the School of Data Science, assembled and distributed environmental sensors throughout Charlottesville, creating the first sensor network with Free and Open Source technologies in the region.
The project was conducted in collaboration with Smart Cville, a local nonprofit that promotes civic innovation and UVA Link Lab from the School of Engineering, that does research in connected cities, robotics, health, and more. Luis Felipe R. Murillo and Jon Kropko (from the School of Data Science) served as mentors and Jon Goodall (from Linklab) as a co-advisor.
It all started in 2019 when Lucas Ames, Smart Cville executive director, approached Murillo with the idea of developing an application for their IoT network. At the time, Murillo was just arriving at the School of Data Science to build a laboratory for research and development of open technologies for the public good called "Librelab." Murillo had research experience with other community sensing projects, such as GOSH, Safecast, and Sensor.community, so he and Ames started to draft a capstone project for SDS students with a similar orientation.
The primary goal was to contribute to an existing LoRa network, putting it to good use with sensor kits that could be assembled and operated by volunteers. LoRa is a wireless protocol for "Internet of Things" applications. Ames and Goodall had already created a "Things Network" community in Cville, so the School of Data Science promptly joined forces to transform the community project into an educational initiative.

To create an environmental monitoring network, James Howerton and Ben Schenck worked on key aspects of the project. Their first step was to help extend the range of the community-owned IoT network in Charlottesville, doubling its capacity. They proceeded next to create, test, and distribute Open Hardware-based sensor nodes. For this purpose, they held regular meet-ups at the Cville Center for Civic Innovation to share information and experiences among volunteers on open technologies for environmental sensing. "We were fundamentally creating the conditions for people to understand the technology," Murillo explained. "The goal," he continued, "was to invert the logic of IoT projects by creating the conditions for people to understand what is at stake. Instead of an "Internet of Things" that is inaccessible, opaque, centralized, and full of security issues, we were aiming for an 'Internet of People' where community work around Free and Open Source software and hardware for environmental sensing is the solution."
To achieve the goal of their capstone project, Howerton and Schenck were guided through a hands-on approach to various aspects of data science: from data acquisition to data preparation, analysis, and visualization. "We wanted to give," says Howerton, "adequate attention to the engineering of the devices themselves, the analysis of the data that they collect, and the presentation of this data for the community."

After testing and validating the networked sensor nodes, Howerton and Schenck moved on to analyze the data. One of the useful applications they identified consisted in exploring correlations between hospital admissions for respiratory health problems and levels of particulate matter. This research, however, was interrupted by the declaration of the lockdown due to the emergency of COVID-19. So they promptly moved on to analyze the impact of the lockdown on the air quality of the city. "Anyone can look before and after the date classes were moved online to see that CO2 and air pollution have declined in Charlottesville," said Jon Kropko who guided the students in their data explorations of correlations between spatial distribution and concentration of pollutants, such as CO2 and particulate matter.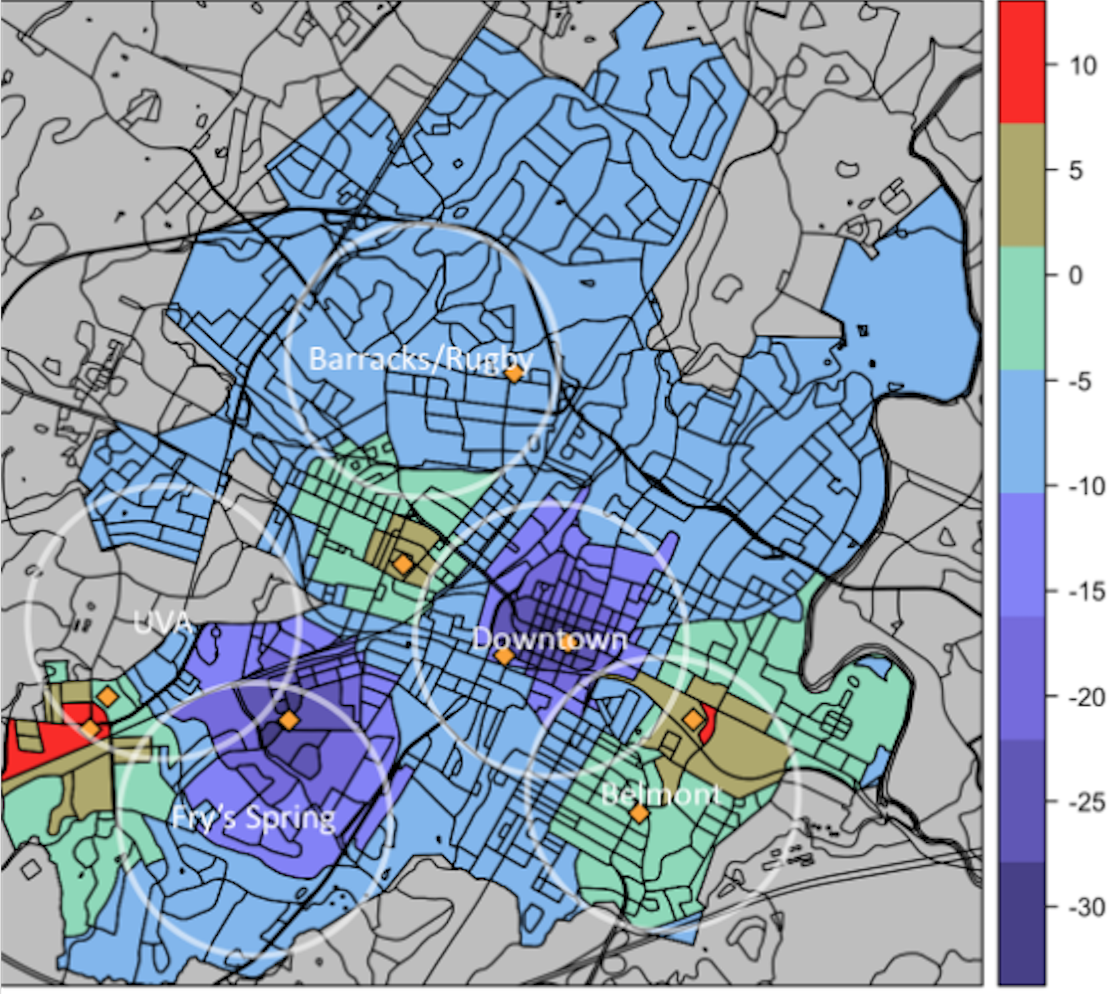 For more information about the project, you can access Schenk and Howerton's portfolio page. All the hardware, software, and visualization technologies that were developed and integrated for this project can be found in the repository "Sensenet" of the School of Data Science.

Our next stop is Kathmandu, Nepal where the infrastructure built for this project will be transferred for the study of air pollution in one of the most affected urban areas of the planet. A new capstone project is being prepared by Open Knowledge Nepal in collaboration with Librelab at the School of Data Science to engage our incoming students with key data science challenges with open technologies for the public good.