News
DSI Student Council enhances cohort experience
Networking with data science industry professionals. Competing against MSDS classmates in trivia. Working with faculty and staff to on academic programs.
What do these things have in common? They were all organized by the UVA Data Science Institute's Student Council.      
The council, an organization inaugurated in 2018, seeks to bridge the gap between MSDS students and DSI faculty and staff, and to provide opportunities for students to connect outside of the classroom.
The 2019 cohort council is led by MSDS students Beni Shpringer, President, and Charu Rawat, Vice President, with assistance from Assistant Director for Academic Affairs Elysia Anderson.
"We are thrilled to have our first MSDS student council," Anderson said, "we see it becoming a key part to the cohort experience."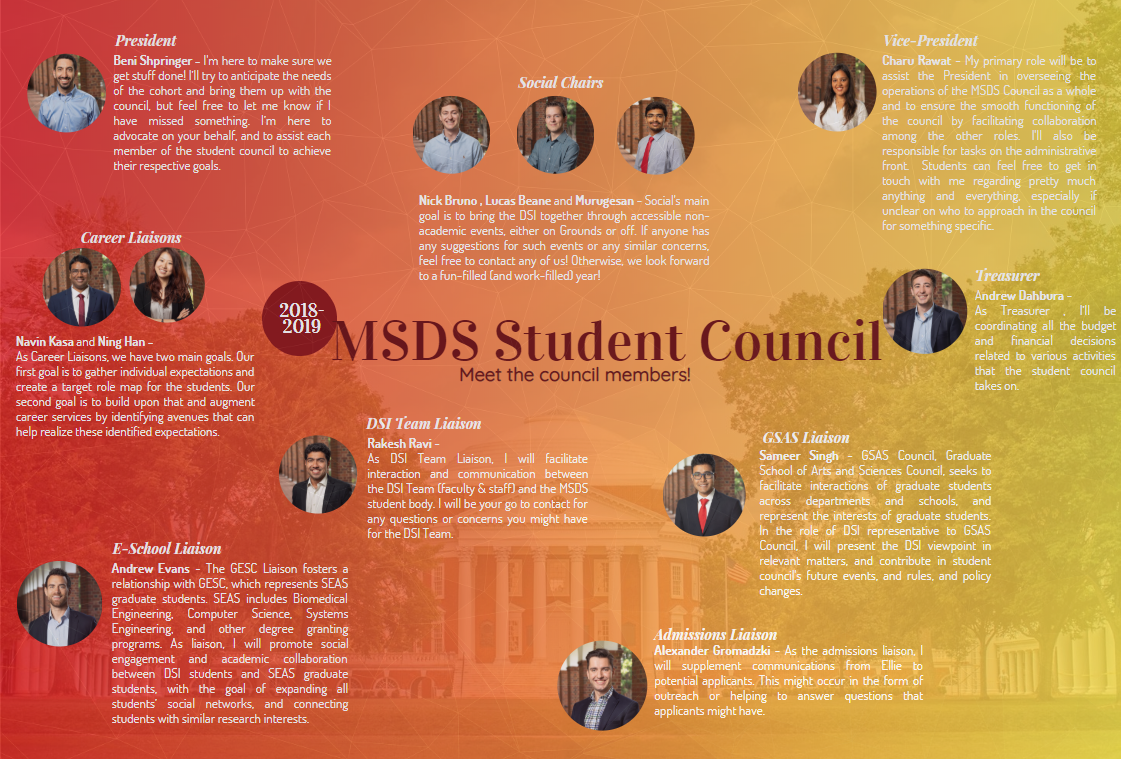 Shpringer and Rawat work alongside a student leadership team, including a treasurer, three social chairs and five liaisons that help connect MSDS students to faculty and other graduate student programs at UVA.
"We saw a need to create a proper channel for students to voice concerns to faculty," Rawat said. "Since creating the student council, faculty members have come to us with different opportunities for data science competitions and career-related events."
In fall 2018, the council organized an event with Metis Machine, which is a machine learning development platform, where students could ask representatives questions and learn more about the company.
"Events like these are important because they allow students to take skills beyond the academic environment and see how they can be applied in the real world," Shpringer said.
The council also prioritizes social events for MSDS students, including trivia nights and a group hike to Crabtree Falls in Montebello, VA.
"We all get caught up with our daily coursework and projects," Rawat said, "so these have been fun activities to connect with students outside of an academic setting."
DSI staff and faculty conceived of the council in the hopes that the students could create a true cohort experience and develop lasting relationships.
"My role and hope, along with the entire DSI team, is to help support and encourage the council to pursue what they feel will make their cohort experience special," Anderson said, "in addition to positively impacting future cohorts with their ideas and feedback."