Double Hoo Working Twice as Hard on COVID-19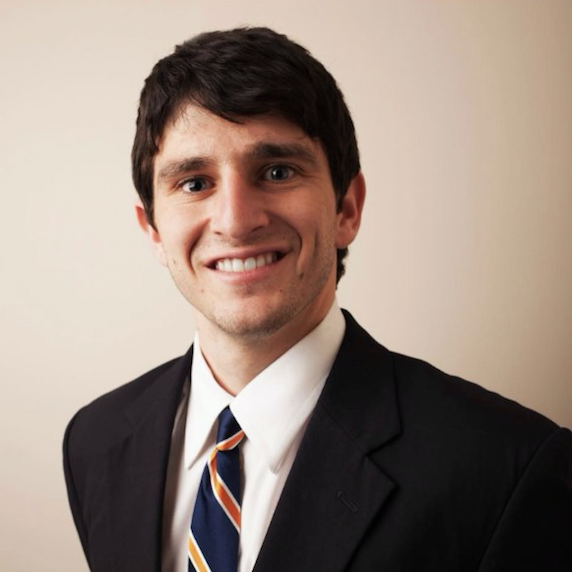 Brendan Abraham has been working around the clock since COVID-19 hit, working to create a tool that will help to inform policymakers during this pandemic.
Abraham graduated from the School of Engineering with his undergraduate degree in Systems Engineering in 2017. He then became a double Hoo in 2019 when he received his master's degree in Systems Engineering from UVA.
Throughout his education in Systems Engineering, Abraham worked closely with Don Brown, the Founding Director of the Data Science Institute, which recently became the School of Data Science where now Brown is a professor. Brown is also the W.S. Calcott Professor in the Department of Systems and Information Engineering.
For his master's thesis, Abraham worked with Brown as his advisor to build models that could detect cyber-attacks based on network traffic patterns. Abraham went on to be a Graduate Teaching Assistant at the School of Data Science for a Capstone project that was funded by DARPA, the Defense Advanced Research Projects Agency, which uses machine learning to detect cybersecurity threats.
"He was a very dedicated and committed student who produced results that lead to a very fine published paper before he completed M.S. thesis," Brown said. "It is rare for a student to get a publication that quickly. Brendan was also a great teacher and mentor to other students. He worked closely with students in the M.S. Data Science program to help them compete their work and produce results that could be effectively used by their sponsor."
Currently, Abraham works for MITRE. MITRE began in the Lincoln Lab at MIT and has since expanded to become its own not-for-profit organization, working across federal, state, and local governments in various research areas. Within MITRE, Abraham works on a team called Open Health Services. He described his job as a health data scientist, primarily focused on healthcare. 
When Abraham first began this job in August of 2019, he explained that he worked on two projects. The first was the Hospital Quality Simplification Project. 
"The idea there was to work with Medicare and Medicaid to build a model that evaluates hospital performance with respect to a bunch of quality measures that gives the hospitals a quality score and then incentivizes them to improve their quality by giving good-performing hospitals a payment bonus," Abraham said.
Abraham explained that hospitals use five different models to evaluate quality, each of which looks at something different. His team was working to consolidate these models.
"We did a lot of analytics. We were trying to basically make a new model that collapses everything down into one model to send a strong payment signal," Abraham explained. "I built this dashboard to sort answer questions such as: 'What if we use these measures for the model? What if we weigh them this way? How does that impact the overall payout to hospitals? What does that look like?'"
Abraham also worked with a team on hospital-quality price-range data, a project known as Health Lab.
"We were building out a healthcare related analytics repository, or analytics platform for health projects in MITRE," Abraham noted. "It has a health database with terabytes of data we've collected from different open sources and stuff, so that it's really easy for a researcher in MITRE to spin up a project and do analysis."
As a developer on the project, Abraham helped create the basic functionality behind this platform.
Since the middle of March, however, Abraham's job has completely changed.
"COVID completely threw everything out the door," Abraham said. "I got a call from my boss saying I need you to put everything you're doing on hold and focus on COVID-19."
Abraham dove into a new project, building a tool that helps governors and local policymakers evaluate when is the best and safest time to lift the non-pharmaceutical interventions.
"That is the overall objective of the work, but I come in to do data science and software development," Abraham noted. "I've been building out this dashboard that has a bunch of different tools within it. I like to think of it as like a Swiss Army knife for COVID."
Within this project, he was tasked with building a model that tracks COVID-related deaths at the state level. Abraham and his team are working with the Department of Homeland Security on this model, and they have a goal to make it an open source project.
"We're trying to basically get it out to as many policymakers as we can, so they can use this tool to make informed decisions," Abraham said. 
While Abraham's focus during his undergraduate education was technically related to Systems Engineering, he explained that data science intersected almost everything he studied.
"Systems Engineering is a very broad discipline," Abraham said. "Inherently at its core, it's a lot of applied statistics, and there is a lot of overlap with data science. My master's was in systems engineering, but the focus was really in machine learning and artificial intelligence."
In both engineering and data science, Brown witnessed Abraham's dedication to his research.  
"Overall Brendan has earned the respect not only of me, but also of other faculty members, his peers and other students," Brown said. "He has demonstrated multiple important attributes that augur well for his success to include dependability, creativity, dedication and hard work."