Alum Highlight
Alum Varshini Sriram's Path to Data Science at U.S. Bank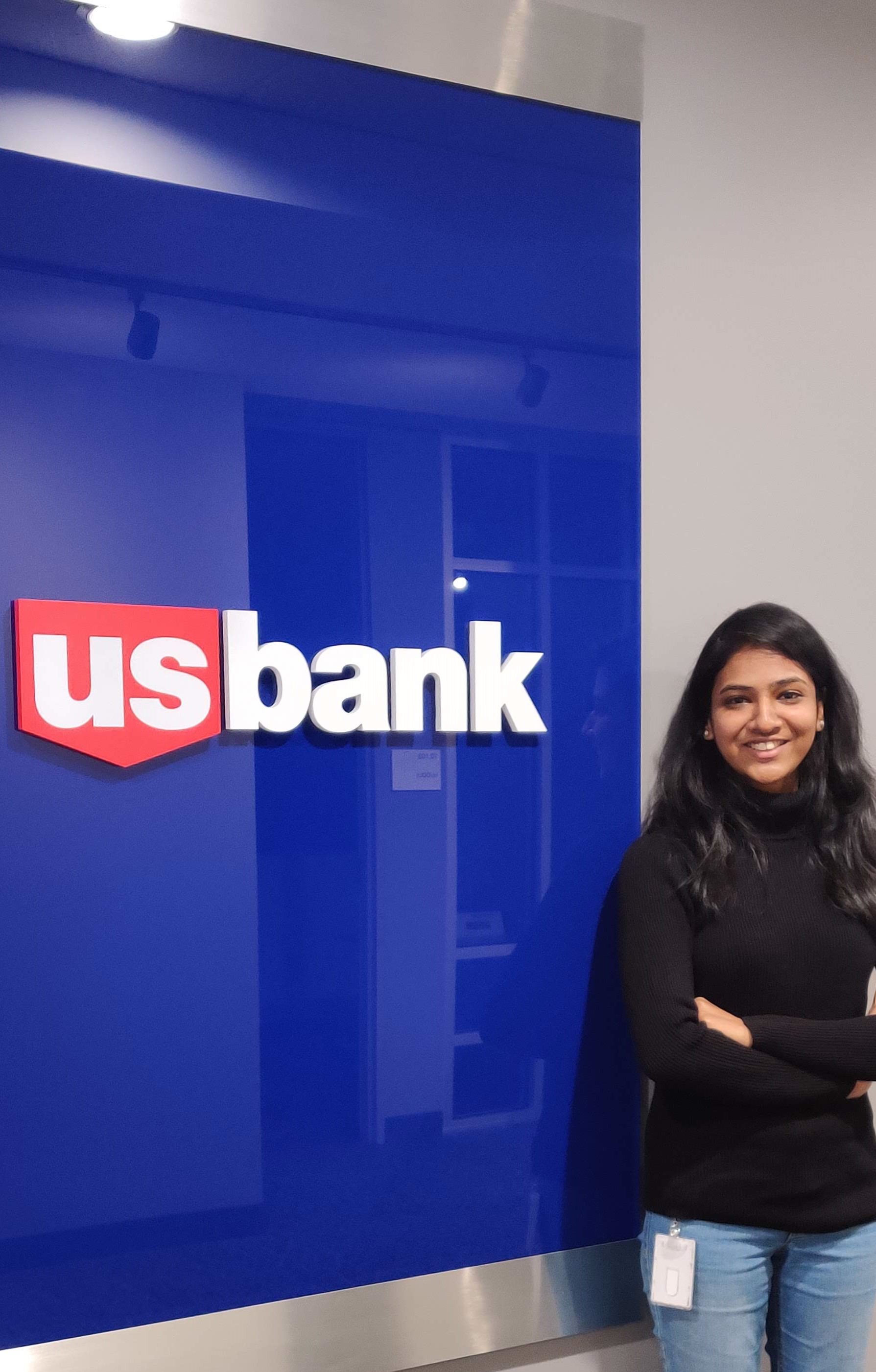 Varshini Sriram has always had a passion and a mind for understanding science and engineering at a deeper level. 
Born and raised in India, Sriram attended the National Institute of Technology Tiruchirappalli, one of the top 10 technical universities in India. There, she graduated with an undergraduate degree in Metallurgical and Materials Engineering. 
While completing a project on private equity investment data during college, Sriram began to feel a pull towards data science.  
"I really liked how you could modify data and get insights from it that are actually really interesting," Sriram explained. "So I wanted to go more in detail and learn about extracting information from data. That's how I realized I wanted to go into data science. I was also always interested in coding so this [data science] fit really well." 
From India to Charlottesville
When Sriram realized her interest in data science, she began to look at masters programs. Although across the globe, Sriram found UVA's Masters in Data Science program and was drawn to it for a variety of reasons. 
"I really liked the one year course structure and the course curriculum that UVA had," Sriram said. "It was perfect -- something you could finish in a year and also it covered a lot of important topics."
Sriram began her MSDS in 2018 and graduated in 2019.
One of these important topics for Sriram was Natural Language Processing (NLP), which is a type of artificial intelligence that helps computers decipher human language. "NLP draws from many disciplines, including computer science and computational linguistics, in its pursuit to fill the gap between human communication and computer understanding."
Sriram discovered her excitement for NLP while working on her capstone project. Her project involved building classification models to annotate biographies of women. Through these models and the data Sriram extracted, she discovered social networks and cultural patterns among the women and their biographies. This capstone was based on NLP, as the models Sriram built and data she extracted required bridging human communication and computer understanding. 
Sriram knew as graduation neared and the job search process began, that she wanted her future career to involve using NLP. 
The Job Hunt
As Sriram began looking for jobs during the beginning of her last semester at UVA, she reached out to people knew. 
This networking proved to be very successful, as she found a data scientist position at U.S. Bank through a family friend. 
"My cousin's friend works at U.S. Bank so he referred me for the job," Sriram explained. 
As she began applying and interviewing for this job, Sriram was more and more intrigued by the company and its focus. 
"I really liked the kind of work they're [U.S. Bank] starting to do right now in data science," Sriram explained. "They are expanding, and they were looking for more technical focus on NLP."
Sriram landed the job and got the official offer in June before graduation. She was thrilled and excited for her new position. 
Life as Data Scientist
Now, Sriram is ten months into the job. She is enjoying her role as a data scientist and learning new things on the job. 
Sriram has meetings with her manager and team almost every day to discuss and report on various projects. Her last project focused on marketing. 
"I also worked on data and building models, propensity models for marketing campaigns," Sriram noted. 
Her current project uses NLP.
"I'm now working on building NLP models for extracting data and insights from text documents and delivering end-to-end AI solutions," Sriram said.
As she is delving into projects at U.S. Bank, she is recognizing even more the skills she developed at UVA in the MSDS program. She specifically is grateful to have had exposure to various coding programs and tools. 
"I am working on a project right now, and I am realizing all that I learned at UVA," Sriram noted. "It is really helping me."
Sriram is loving Minneapolis so far, both the people and the city itself. 
Sriram did not know where she wanted to be post graduation, but she knew she wanted a career that would further her skills in NLP. 
She is excited to do just that as a data scientist at U.S. Bank.