Event
On-Air with Phil Bourne UVA Data Science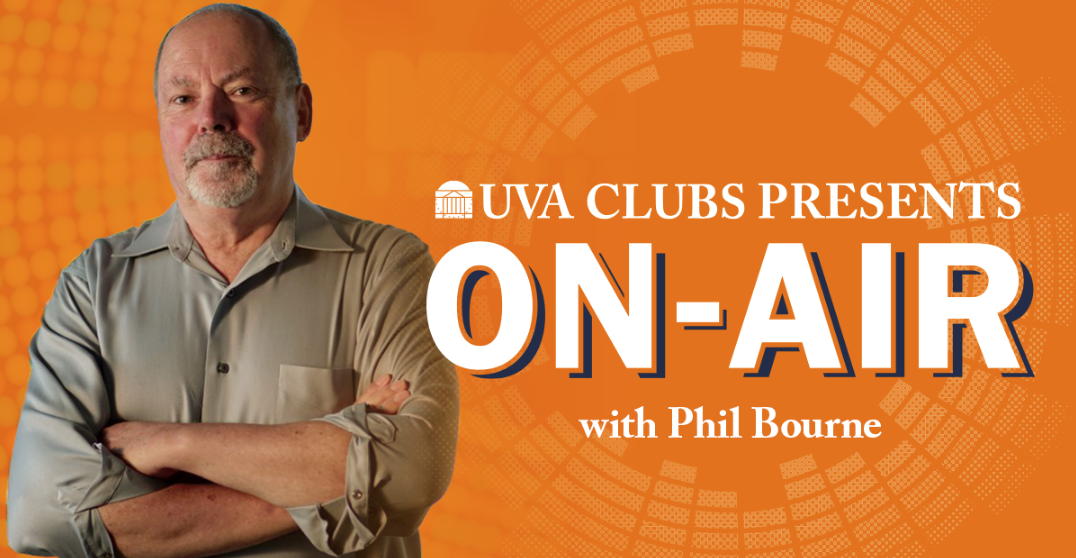 Listen to On-Air with Phil Bourne Dean's Blog: On-Air
On April 30 at 3pm, Dean of the School of Data Science Professor in the Department of Biomedical Engineering, Phil Bourne, got on the air to address the COVID-19 crisis. 
Over 1000 people registered for this live on the air event hosted by UVA Clubs.
580 callers from over 17 countries tuned in, representing more countries and a larger percentage of registrants than previous events, noted Wendell Collins, Director of Development at the School of Data Science. 
Listeners included alumni, parents, corporate partners, friends, students, and more.
To start, Bourne discussed the importance of data science in the current crisis. However, he pointed out that none of the current COVID-19 models are as accurate as we would like. Why is this? Bourne explained that to predict deaths from this virus, it is a function of the susceptibility of the vulnerable population, the infection rate, and fatality rate. 
"These rates are extremely hard to predict," Bourne explained.
He went to emphasize the importance of data science people can trust, a monumental problem in the pandemic currently. 
"We must make ethical, responsible data science a priority in COVID-19, with patient information, and always," Bourne said. 
How is the School of Data Science responding to this crisis? Bourne noted that almost all of the faculty at the School of Data Science are diving into research related to COVID-19. Some are working to build accurate models, others are looking into the effects on vulnerable populations, and others are looking into how public health information is communicated globally. 
Furthermore, Bourne discussed the environment he is working to build within the School of Data Science. 
"The School of Data Science is working to build this culture [of ethical, responsible data science]," Bourne said. "This begins in the proposal stage all the way to how the results are communicated."
About 20 minutes into the call, Bourne opened it up for questions. A number of registrants called in from a broad range of backgrounds, asking questions about the projected timeline of the virus, non-respiratory related symptoms, and more. 
While so much is still unknown surrounding COVID-19, On-Air with Phil Bourne, created a virtual space for people from all over to listen to Bourne's thoughts on the pandemic and the hope of data science to create change in the midst of this crisis.