A Conversation: Every Data Point Tells a Story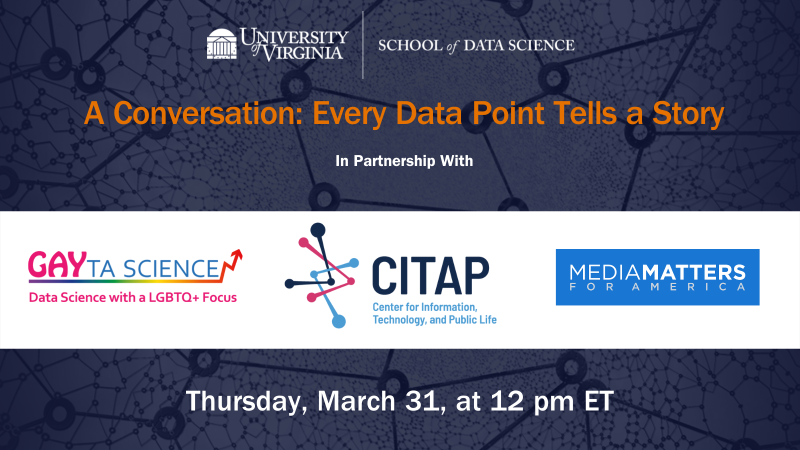 Join us for a conversation on algorithms, social media, protective community use policies, and how "echo chambers" can harm or protect the LGBTQIA community. The event is hosted by the School of Data Science and will be moderated by Donna Price, Chair of the Albemarle County, Virginia, Board of Supervisors. Co-sponsors include the Center for Information, Technology, and Public Life, Media Matters for America, Gayta Science. 
---
Donna Price
Albemarle County Board of Supervisors, Chair
Donna Price is the current Chair of the Albemarle County, Virginia, Board of Supervisors; and, the first transgender person in the United States to hold the highest elected office of a County Government. Before transitioning, she served twenty-five years on active duty in the U.S. Navy Judge Advocate General's Corps, retiring as a Captain. While on active duty in the Navy she served as a Prosecutor, Defense Counsel, and Military Trial Judge; was Commanding Officer of the largest legal office in the Department of the Navy; and served as a Legislative Liaison where she was responsible for all Medical and Personnel issues affecting the Navy before Congress. During her civilian career she was a Senior Vice-President, Privacy and Compliance and Chief Compliance Officer of a healthcare provider in the military's TRICARE arena and also served as General Counsel for a Defense Contractor. In her private practice of law she has specialized in representing individuals in Security Clearance adjudications as well as having represented individuals in Federal Criminal Trials.
---
Kayla Gogarty
Media Matters, Associate Research Director
@ohhkaygo 
Kayla is an associate research director at Media Matters, where she has worked since September 2018. She holds a master's degree in chemistry research from Stony Brook University and has a background in LGBTQ media and advocacy. She previously worked as an LGBTQ opposition researcher at Media Matters and prior to that interned at the Human Rights Campaign. In her current role, Kayla monitors social media platform policies and enforcement of these policies.
---
Kelsey Campbell
Gayta Science, Founder
(they/she)

Kelsey Campbell is a data scientist and founder of Gayta Science, a site devoted to highlighting the LGBTQ+ experience using data science and analytics. With a growing team of volunteer analysts, designers, researchers, and developers, Gayta Science is devoted to investigating a variety of LGBTQ+ issues using data-driven techniques and open-source technology. Kelsey has industry experience in public health research, software development, and government consulting. They are interested in the social justice impacts of media manipulation, mis/disinformation, and online influence.
---
Jess Reia
UVA School of Data Science, Assistant Professor
Jess Reia is Assistant Professor of Data Science at the University of Virginia. Before joining UVA, they were appointed as Andrew W. Mellon Postdoctoral Researcher at McGill University and 2020-2021 BMO Fellow at the Centre for Interdisciplinary Research on Montréal. From 2011 to 2019, Reia worked as Professor and Project Manager at the Center for Technology & Society at FGV Law School in Rio de Janeiro. They work on public interest advocacy and research that addresses power relations between technologies, spaces, and people.
---
Francesca Tripodi
University of North Carolina at Chapel Hill, Center for Information and Library Science, Assistant Professor
Dr. Francesca Tripodi is a sociologist and media scholar whose research examines the relationship between social media, political partisanship, and digital inequality. She is an Assistant Professor at the School of Information and Library Science (SILS) and a Senior Research at the Center for Information Technology and Public Life at UNC-Chapel Hill.  She holds a PhD and MA in sociology from the University of Virginia, as well as an MA in communication, culture, and technology from Georgetown University.
In 2019, Tripodi testified before the U.S. Senate Judiciary Committee on her research, explaining how search engines and processes are gamed to maximize exposure and drive ideologically based queries. This research is the basis of her upcoming book with Yale University Press titled The Propagandists' Playbook. In an attempt to improve media literacy, she and a team of researchers were awarded an NSF Accelerator grant on Media Trust and Authenticity with partners at MIT, Stanford, and University of Washington. Recently, her research on patterns of gender inequality on Wikipedia, was featured on NPR All Things Considered.
Her research has been covered by The Washington Post, The New York Times, The New Yorker, NPR, The Columbia Journalism Review, Wired, Slate, The Guardian and The Neiman Journalism Lab.
---
Sponsored By